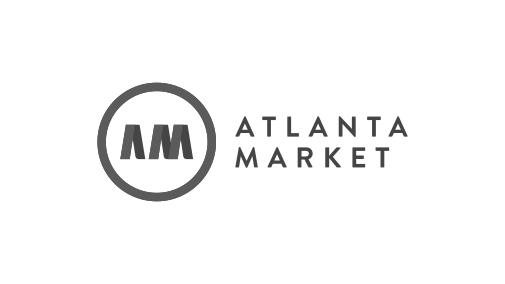 Winter 2023 Atlanta Market Offers Education and Celebrations
ATLANTA – December 6, 2022 – Atlanta Market kicks of 2023 with five days of thought leader and tastemaker presentations and market celebrations designed to entertain and educate at its Winter 2023 buying event (January 10-16, 2023, at AmericasMart Atlanta). Leading the 20+ events is new proprietary FIRST LOOK trend education, live cooking demonstrations, keynote events and seminars plus parties, amenities and more.
"Atlanta Market's Winter Market programming is designed to inspire and invigorate retailers and designers as they kick off a new year," said Dorothy Belshaw, International Market Centers (IMC) executive vice president, chief customer officer. "With new FIRST LOOK trend programming, engaging keynotes, actionable seminars and everyone's favorite opportunity to taste in the Demonstration Kitchen, it's a compelling week of business-building education highlighted by opportunities for the industry to celebrate as we come together again in the New Year."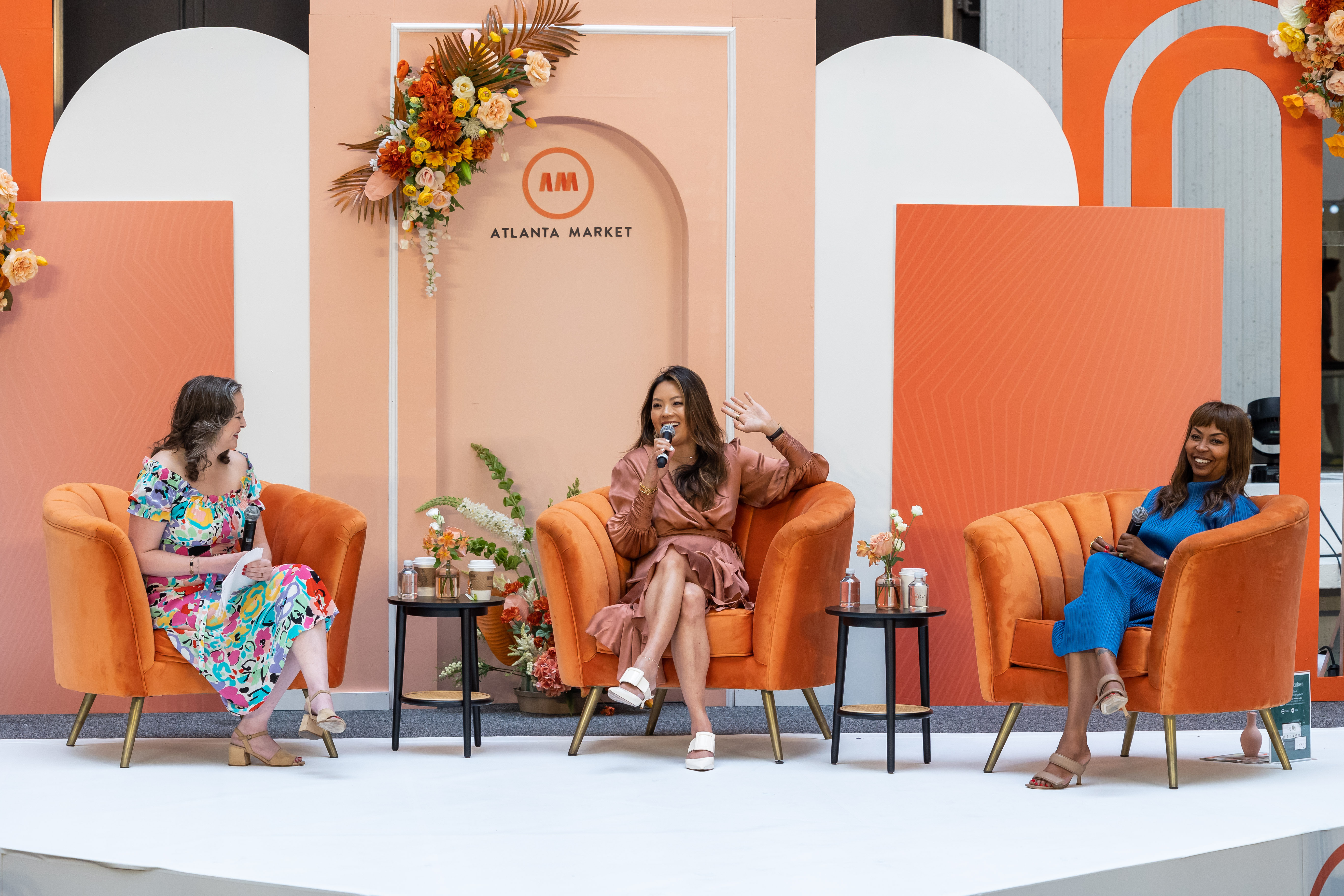 FIRST LOOK Debuts in Atlanta
IMC expands its signature FIRST LOOK trend forecasting program to Atlanta Market for the first time in January 2023. Curator Julie Smith Vincenti of Nine Muses Media showcases three trends – Amplify, Care and Explore – in "FIRST LOOK EAST," a fast-paced, image-rich survey of new products and noteworthy trends from Atlanta Market on Tuesday, January 10 at 2:00pm. The trends come to life in a new tour "New Buyer Tour: TRENDS" led by on Friday, January 13, at 9:00am. With the Atlanta Market premiere, FIRST LOOK explores one national trend – Amplifyfeaturing products with a message – and two regional trends: Care exploring dining and lounge spaces that are comforting, reassuring and bountiful; and Explore tracking consumer's new travels, adventures and hobbies.
New Ideas for a New Year
Some seven educational programs motivate Atlanta Market designers and retailers to explore new opportunities as they launch a new business year.
The Atlanta Market Mainstage in the atrium of Building 3 offers three keynote presentations from retail and design tastemakers. In "The Power of Storytelling in the Post-Pandemic Retail World" New York Times bestselling authors and founders of Beekman 1802, Josh Kilmer-Purcell and Dr. Brent Ridge, teach how to tell a story that every customer wants to hear on Wednesday, January 11, at 1:00 pm. The "LUXE Ahead of the Curve Panel" brings together top interior designers Michel Smith Boyd of Atlanta; Jeremy D. Clark of Birmingham Ala. and Nashville, Tenn.; Kelly Finley of Joy Street Design in Atlanta and Oakland, Calif,; and Whitney McGregor of Greenville, SC, to discuss emerging design trends and new product inspirations with Kate Abney, Home editor of LUXE Southeast on Thursday, January 12 at 1:00pm. "Fireside Chat with Egypt Sherrod" is an intimate conversation with the HGTV host and real estate broker on Friday, January 13 at 1:00 pm.
Additional buyer programming digs into color trends, social media and business operations. "Sherwin-Williams 2023 Colormix Forecast" explores the inspiration, factual statistics and research that support the 2023 palette TERRA in a presentation by Sherwin-Williams Director of Color Marketing and color expert Sue Wadden on Wednesday, January 11, at 2:00 pm. "How To Be the Store Of Choice In A World of Endless Possibilities" considers the many ways consumers want to shop, interact and buy from a brand and how to make the most of this trend with independent retailer and co-founder of WhizBang! Retail Training Bob Negen on Friday, January 13, at 2:00pm. "How to Strategize Your Social Media Marketing in 2023" dives into the five pillars of creating a competitive social media strategy with Austin Cornelius & Frances Weathington of SHARE Social Concepts on Thursday, January 12, at 2:00 p.m. These sessions are presented in the Atlanta Market Seminar Room in Building 1, Floor 14.
Heating Up in the JURA Demonstration Kitchen
The tastiest destination at Atlanta Market – the JURA Demonstration Kitchen in Building 2, Floor 8 – comes to life with four interactive cooking demonstrations. In "Recipes from At the Table of La Fortezza, Lunigiana Italy," buyers can discover unique recipes from a little-known region in Italy: a Hugo Spritz cocktail with Roasted Grape and Ricotta Crostini and Chestnut Fritters, with food stylist, producer and entertaining expert Annette Joseph on Wednesday, January 11, at 2:00 pm. "Caribbean Flavor with a MasterChef Junior Champ" features Jasmine Stewart, entrepreneur and winner of MasterChef Junior Season 5, creating her signature dish: Caribbean Spiced Salmon with Yellow Coconut Curry Broth and Garlic Ginger Jasmine Rice on Thursday, January 12, at 2:00 pm. Pastry chefs from Atlanta-based St. Germain bakery demonstrate French-inspired desserts on Friday, January 13 at 2:00 pm. In "The Perfect Charcuterie, Step by Step: Alex Plavin of Charcuterie Chick teaches how to style and build the ultimate charcuterie board with practical tips and tricks for assembling a stunning platter on Saturday, January 14, at 2:00 pm.
Exploring AmericasMart with Tours and Orientations
The scope and scale of Atlanta Market means newcomers – and even veterans – need some help to navigate the three buildings of AmericasMart. Luckily, orientations and tours help buyers make the most of market. Three days of "New Buyer Market Orientation" with JD Whitehead, Buyer Services Team Lead for IMC in the Building 2 Buyers Lounge help buyers get a lay of the land (Tuesday, January 10 - Thursday January 12 at 9:00 am). "New Buyer Tour: Casual/Outdoor Furnishings" is an exploration of the newest product category at Atlanta Market with Senior Vice President of leasing Jill Ford followed by mimosas in the POLYWOOD showroom on Tuesday, January 10, at 9:00am. "New Buyer Tour: TEMPORARIES" is a quick overview of the temporary exhibits in all three AmericasMart buildingswith Marie Knight, IMC Vice President - Gift & Home Tradeshows on Wednesday, January 11, at 9:00 am. "New Buyer Tour: HOME" navigates Atlanta Market's 300+ home resources with Designer Services Manager Caroline Russell on Thursday, January 12, at 9:00am.
A Celebratory Atmosphere
Atlanta Market's signature parties and amenities set a tone of celebration as the industry comes together again. The "Market Kickoff Party" features complimentary drinks, live entertainment and a celebration of the start of Market amid the vibrant Gift & Home Temporaries on Wednesday, January 11, at 6:00 pm. The "Designer Workspace Soiree" invites attendees to celebrate the new home of the Designer Workspace in Building 1, Floor 15, on Thursday, January 12, at 4:00 p.m. "Afternoon Beats" allows attendees to mix and mingle in the Building 3 atrium Thursday, January 12 – Saturday, January 14, beginning at 3:30 pm. Buyer amenities include pop-up bars and buffets serving treats like hot toddies, cider and doughnuts, hot cocoa, pancakes, grilled cheeses and tomato soup, pies, chicken and waffles and more.
A full list of market events is at AtlantaMarket.com/Attend/Events. (NOTE: Event descriptions available via this link: Atlanta Market Events Winter 2023). Events are open to all Atlanta Market attendees.
Atlanta Market is the industry's premier gift, décor and lifestyle market. Housing the nation's largest gift product mix complemented by a broad selection of home décor and casual furniture, it features more than 8,000 brands across all categories. Held semi-annually at AmericasMart Atlanta, Atlanta Market attracts retailers and designers from every U.S. state and more than 60 countries. Registration for the January 10-16, 2023, Atlanta Market is open now at AtlantaMarket.com.
About International Market Centers: International Market Centers: International Market Centers (IMC) serves as the center of commerce for the wholesale furniture, gift, home decor and apparel industries. With more than 20 million square feet of premium wholesale showroom space in High Point, N.C., Las Vegas and Atlanta, IMC has more than 60 years of relationships and experience creating scalable business platforms for wholesale commerce. With the launch of Juniper, a fully integrated omnichannel B2B commerce solution and multiline B2B e-commerce marketplace empowering buyers and sellers to better manage and grow their business at markets and year-round, IMC now provides the only omnichannel sales and marketing platform that seamlessly connects physical and digital wholesale commerce. IMCenters.com.
###
Media Contacts
Chelsea Peabody Bohannon, 404.220.2141 or cbohannon@imcenters.com
Cathy Steel, 203.340.9251 or cathysteel@cathysteelassociates.com