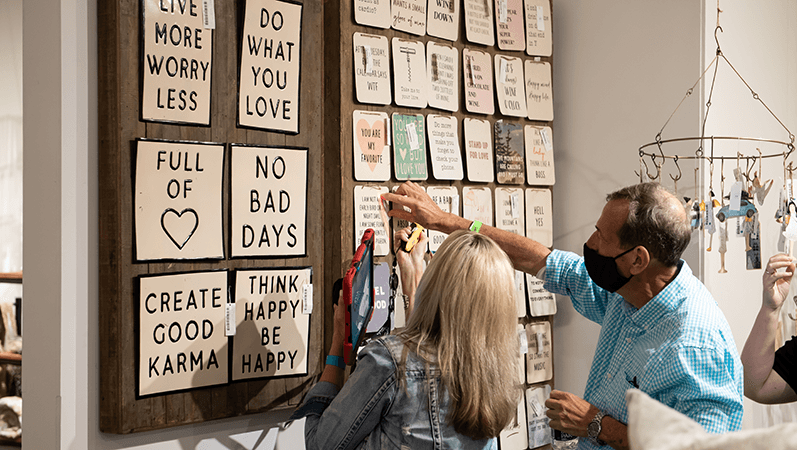 Vibrant Atlanta Market to Set Tone for New Year
Atlanta Market will provide a fresh start for retailers and designers as they gather to discover new trends, source new product and make new connections with a renewed optimism for 2021. Buyers at the January 12-19, 2021 market (temporaries January 13-17) will find a complete marketplace with 8,000+ brands highlighted by reorganized temporaries, 50+ new, expanded and relocated showrooms, new digital sourcing tools and proven safety protocols.
"The usual excitement for the Winter Atlanta Market is amplified by hope for a better year ahead," notes Bob Maricich, International Marker Centers (IMC) CEO. "In Atlanta, we are ready to provide an engaging and profitable market through comprehensive product offerings, new discovery tools and the return of dynamic on-campus experiences."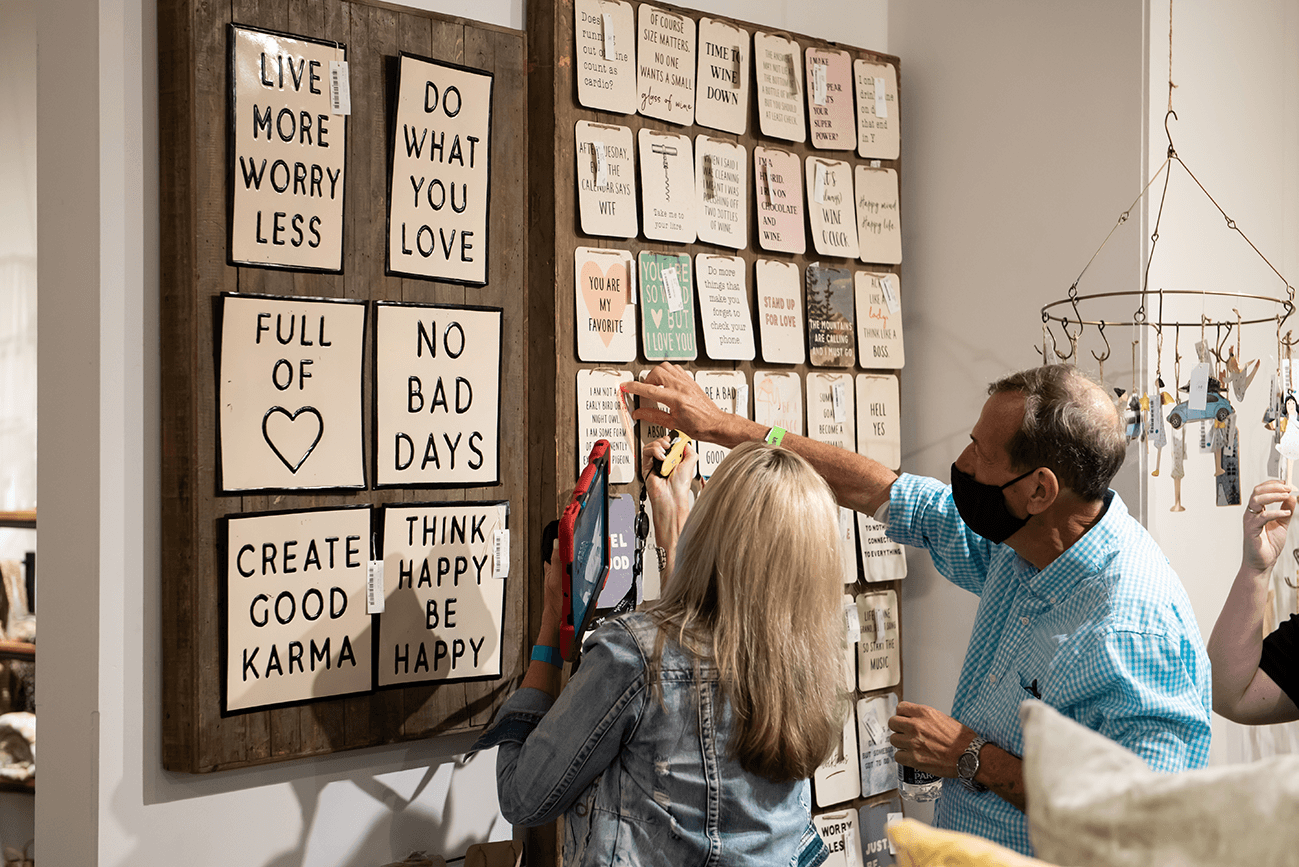 Atlanta Market Buyers
Updates and Exclusives in the Showrooms
Atlanta Market's 1,000+ gift and home décor showrooms – including some 250+ brands only showing in Atlanta in January – continue to evolve with 50+ new and expanded showrooms inspired by IMC's Atlanta NEXT plan, which redefines product categories and updates the AmericasMart campus. Recent Atlanta NEXT progress includes additional showroom remerchandising throughout the campus, an upgraded entrance to Building 1 at Ted Turner Drive and Andrew Young International Boulevard and continued progress on the Building 1 lobby renovation.
The 700+ gift showrooms feature 36 new, expanded and relocated tenants highlighted by the winter market debut of the new Appelman Schauben and Ivystone lifestyle destination in Building 2, Floor 11. Reorganization of the Atlanta Market gift offerings continues to attract new resources to AmericasMart with eight new showroom commitments including ELC Designs (gift and home decor), Great Scrape (natural BBQ cleaning tools), Portmeirion USA (dinnerware, crystal, gifts and homeware), Tremont Floral Supplies (artificial florals, floral accessories, gifts, home and Christmas décor) and more. The 28 expanded and relocated showrooms include a new relocation by RS Covenant (rings).
IMC continues to refine Atlanta Market's 300+ home décor showrooms to create an accessible and reenergized marketplace, highlighted by the winter debut of relocations of Sagebrook Home, IMAX and Diamond Star to Building 1 from Building 2. The 21 Winter Market updates in Building 1 include an additional new showroom -- Artists Guild of America (original art) -- and the relocations of seven more showrooms: Abigails (tabletop and decorative accessories), Authentic Models (furniture, artifacts and accessories), Bethel International (lighting, furniture, mirrors and accessories), Joel Robinson & Associates (representing 12 home décor and commercial design brands), Veronica Flam (representing 28 home décor brands), Zeugma (pottery, copper, wood lighting and mirrors handcrafted by Mediterranean artisans) and Zuo Décor (indoor and outdoor living, lighting, mirrors and home décor).
In addition to the new, expanded and relocated showrooms, some 100+ gift and home décor brands have renewed their commitments to Atlanta Market. Renewed brands include Bougainvillea, Core Home, Daniel Richards, Folkmanis Inc., Gib Carson Associates, HomArt, K & K Interiors, Ratana, Southeast Marketing and many more. For the exhibitor directory, visit AtlantaMarket.com/exhibitor/exhibitor-directory.
"I am super excited about going to Atlanta Market. I did not go last August, for the first time in many, many years. I am such a visual buyer and love attending market for inspiration," said Ginger Milligan, owner of Fantasy Island Toy in Fairhope, AL and co-product director of The Good Toy Group. "I have appointments set with my reps, so I can cover my store as well as The Good Toy Group. With many tradeshows postponed, [Atlanta is] even more important for 2021."
New Synergies in the Temporaries
Atlanta Market's temporaries return for the Winter Market after a summer hiatus with a new, intuitive layout and organization. Some 15 of the 31 categories feature new locations which create dynamic exploration opportunities for buyers. Of note are the co-locations of HD HOME, HIGH DESIGN and HIGH DESIGN LUXE in Building 2, Floor 2; Gourmet Foods, Gourmet LUXE, Housewares, Outdoor Living, Outdoor Living LUXE, Seasonal / Gift, Tabletop & Entertaining and Tabletop LUXE in Building 2, Floor 3; and Body & Soul, Body & Soul LUXE, Children's World, General Gift, Modern Child and On Trend Gift in Building 3, Floor 5.
The synergy of personal care, children's and trend-driven gift in Building 3, Floor 5, has created a lifestyle destination in the temporaries. Buyers can source from well-known brands including Ty, Inc. (plush), Pura Vida Bracelets (bracelets made by local artisans in Costa Rica), Finchberry (handcrafted soaps), Inis-The Energy of the Sea (fragrance) and Jim Spinx (novelty products) and discover additional brands like Musee (handmade bath products), Mila & Rose (children's apparel and accessories), Mon Ami Designs (children's toys, accessories and décor), Retrospect Group (stationery and paper goods) and more.
The Winter 2021 Market offers expanded opportunities for buyers to source immediate goods with a strong Cash & Carry collection, now offered in Building 2, Floor 4. The nearly 50 brands offer jewelry, accessories, apparel, shoes, children's and gifts for immediate purchase. Highlights include The 29:11 Story (handmade jewelry), All That Glitterz (jewelry, belts, scarves, headbands, leg warmers and accessories), Be Mine (hand-smocked and knit children's apparel), Meico (handmade in America jewelry), Rant & Rave (fashion accessories plus gift and novelty items), Silver n' Accessories (sterling silver) and more.
Atlanta Market's ANTIQUES category offers antique furniture, vintage paintings and prints, unique collectables and one-of-a-kind items in a new location in Building 3, Floor 1. Highlights of the 50+ exhibitors include new-to-Atlanta-Market dealers Chatelet Antiques (antiques and fine accessories from the Brittany region of France), Justin Westbrook Antiques (English Regency, Italian Neoclassical, lighting and decorative objects), Marta Gualda Artifacts (art and artifacts), Roberto Freitas (American antiques plus folk art, marine art and decorative arts and collectables) and Willow Creek Gallery (18th and 19th century French, Italian and Spanish antiques). ANTIQUES is open Wednesday, January 13 – Saturday, January 16.
Some 40+ brands make their Atlanta Market debut in January. Highlights across the categories include Boo Boo Ball USA (first aid kits) in Children's World; Charlotte & Emerson (bags) in On Trend Gift; Joyin (toys, party supplies and seasonal products) in Season/ Gift; Maison Maison Design (custom lampshades and antique tapestry pillows) in HD Home; The Pen + Piper (greeting cards) in Emerging Artists; Second Nature Jewelry (artisan jewelry) in Handmade Jewelry; That Elderberry Lady (handcrafted herbal-based products) in Gourmet Foods, and Xplorer Maps (custom and original maps of national parks and travel destinations) in General Gifts. For a full list of temporaries, visit AtlantaMarket.com/exhibitor/Temporaries
Online Learning and On-Campus Experiences
In concert with buyer sentiments, Atlanta Market presented much of its signature educational programming virtually before the Winter 2021 market. The first East Coast installment of IMC's proprietary "Ahead of the Curve" trend program featured panelists discussing emerging design trends and new product inspirations. In collaboration with Las Vegas Market and IMC High Point Market, Atlanta Market presented a panel discussion exploring the diverse backgrounds, experiences and global perspectives of the designers of the Fall High Point Market Virtual Showhouse "The House That Diversity Built." Additional topics included "2020: A Year of Huge Obstacles, Tough Lessons and Fresh Starts" with critical lessons for retailers learned from the COVID-19 crisis presented by consulting firm CAP3; the "Sherwin-Williams Colormix 2021 Color Forecast" revealing 40 trend colors, presented in four palettes; and "What to Expect at Atlanta Market: Buyer Orientation." During Market on Thursday, January 14 at 4 p.m., IMC launches its Market Insights monthly webinar series with a live presentation of the PANTONE 2021 Color of the Year by Vice President of the PANTONE Color Institute Laurie Pressman who will highlight key color trends (registration here). Recordings of all the webinars are available at AtlantaMarket.com/News-and-Trends/Webinars-and-Education.
On-campus installations encourage buyers to explore new opportunities and showcase their time at the market. In Winter 2021, the Atlanta Market demo kitchen is an interactive display of new introductions and best sellers from selected gourmet and housewares exhibitors including Good Food Services (representing 20 gourmet food brands), Kitchen2Table (representing 42 kitchen, home and entertaining brands), Mepra Cookware (stainless steel cookware; represented in Rosse & Associates) and more. While they explore the in-person products, buyers can view virtual demonstrations via AmericasMart's YouTube Channel at bit/ly/ATLMKThousewares.
Buyers can explore IMC's new JuniperMarket via "Preview Pods" that will provide a dynamic visual overview of the new B2B e-commerce marketplace, allowing prospective users to preview the new purchasing platform and understand its connectivity to IMC's physical markets. Visitors will receive Juniper "swag" and be entered to win iPads and other prizes. Registration for JuniperMarket – either at the pods in Building 2, Floor 2, or as part of Market registration – grants buyers immediate access to the platform when JuniperMarket launches in spring 2021.
Market attendees are encouraged to post about their Atlanta Market experience via Instagrammable backdrops located in the lobby of Building 2 and multiple locations in Building 3. Snaps from the market week can be seen by following the hashtag #ATLMKT.
Trend Discovery and Planning Tools
Atlanta Market provides trend and market content through a variety of channels for the Winter 2021 event. Some 40 new products and best sellers are finalists for the Winter 2021 Atlanta Market Snapshot. Found among the permanent showrooms, in temporaries and in the 650+ brands presented by 70+ Atlanta Market exhibitors on ShopZio, the finalists represent must-have items from the home décor and gift collections. People's Choice winners will be announced the first day of Atlanta Market.
The Market's social media channels – @AmericasMartATL on Facebook, Instagram and Twitter – will document trends and market moments. Augmenting Atlanta Market's content is a series of market ambassadors who are showcasing trend discoveries using the hashtag #ATLMKT2021. The winter 2021 influencers are Kassina Folstad of St. Paul, MN (@hellonorden); Carla Hayden of Atlanta, GA (@itscarlabethany); Lori Paranjape of Nashville, TN (@mrsparanjape); Samantha Regan of Geneva, IL (@shiningondesign), and Nina Williams of Waukee, IA (@ninawilliamsblog).
Atlanta Market's Winter 2021 planning tools are available online and in print. The Atlanta Market Magazine expands its print edition with an interactive virtual format that allows readers to gain additional information and reach out to exhibitors via embed "hot spots." The AmericasMart Buyer's Guide also will offer a supplemental interactive virtual edition. The AmericasMart App allows attendees to navigate the campus with turn-by-turn directions; save must-see exhibitors, events and specials; set up a budget for market and track spending; take notes; get real-time information about market happenings and get exciting news through social alerts. All these tools can be accessed via the new AtlantaMarket.com which features an enhanced exhibitor search and IMC's interim Catalog Connexion and ShopZio discovery and sourcing tools.
The Winter 2021 Atlanta Market will follow IMC's Together Safely protocols. Before market, buyers must register online for one of two buying sessions at AmericasMart.com/Registration. On-campus safety procedures include the required use of PPE, temporal checks, capacity limits and social distancing measures.
Atlanta Market's showrooms are open Tuesday, January 12 – Tuesday, January 19, 9 a.m. – 6 p.m. Temporaries are open Wednesday, January 13 – Saturday, January 16, 9 a.m. – 5:30 p.m. and Sunday, January 17, 9 a.m. – 2 p.m. ANTIQUES closes on Saturday, January 16 at 2 p.m.
Atlanta Market is the industry's premier gift, décor and lifestyle market. Housing the nation's largest gift product mix complemented by a broad selection of home décor, it features more than 8,000 brands across all categories. Held semi-annually at AmericasMart Atlanta, Atlanta Market attracts retailers and designers from every U.S. state and more than 60 countries. For more information, visit AtlantaMarket.com.
Tag:
Press Release
Atlanta Market