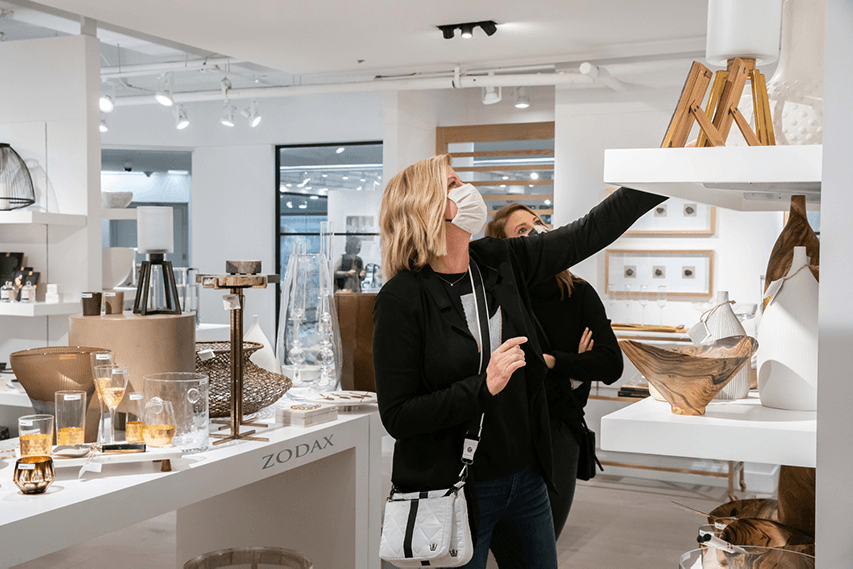 IMC Expands Spring Buying Event to Meet Increased Demand
International Market Centers (IMC) is expanding its March buying event – Spring Market – to meet the needs of buyers and sellers desiring another opportunity to come together this spring. The March 3-5, 2021 market adds two preview days – March 1-2, 2021 – to accommodate appointments in its 1,000+ gift and home décor showrooms. Previously known as Spring Mini Market, the new "Spring Market" moniker better reflects the industry's most comprehensive permanent gift and home décor product assortment, on display at AmericasMart® Atlanta.
"The optimism displayed at the Atlanta Market in January is maintaining its momentum through the first quarter," notes Bob Maricich, IMC CEO. "As such, we are expanding the March buying opportunity in Atlanta – in dates and scope— to give retailers and designers more time to discover, connect and shop the unmatched resources available in AmericasMart's showrooms."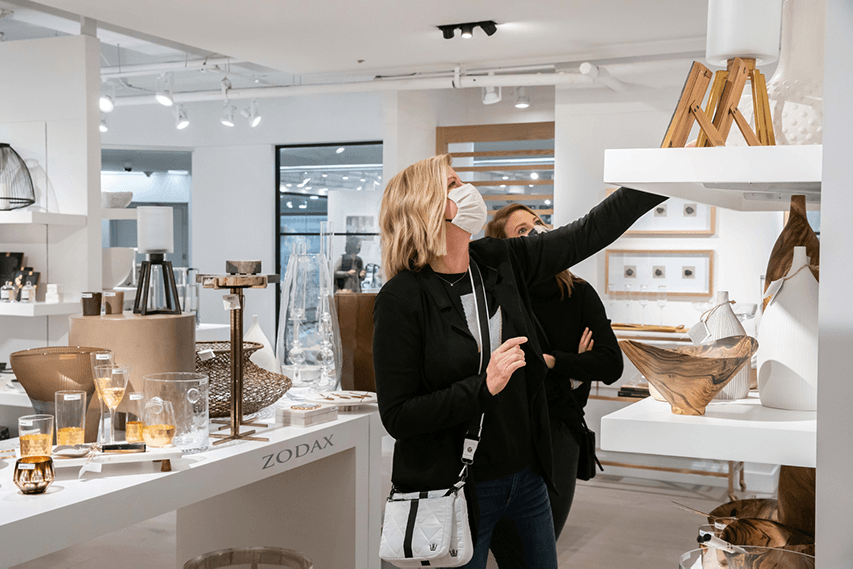 Buyers source tabletop and gift product in the Appelman Schauben showroom,
set to be open for Spring Market.
Brands Ready to do Business
AmericasMart's 700 gift showrooms and 300 home décor showrooms feature some 58 new, expanded and relocated showrooms for the 2021 Spring Market. To date, the vast majority of AmericasMart's leading representative groups are opening and taking appointments for the full five-day buying event. Confirmed groups from across the home décor and gift offerings include Anne McGilvray, Appelman Schauben, CODARUS, Curated Home Brands, Darrah & Company, Gib Carson & Associates, Ivystone, J Douglas, Just Got 2 Have It, Road Runners, Simblist Group, Southeast Marketing, The Link Companies, Veronica Flam and more.
"We are going to market the daylights out of the March show as a week, not just three days," said Verne Bliss, principal of Dugan-Bliss & Associates, which represents 43 brands.
Gourmet, housewares and tabletop brands – offered in some 125+ showrooms – are key categories at Spring Market, reflecting their current popularity as well as disruption to the international trade show calendar. Nearly 40 brands are only in Atlanta this spring including All-Clad, Fiestaware, Juliska, Simon Pearce, Smeg, Wusthof and more. In preparation for the market, a timely panel discussion lead by the editors of Home Furnishings News (HFN) will explore gourmet, housewares and tabletop trends as a primer for retailers looking to introduce those categories. The interactive webinar takes place Tuesday, February 16 at 2 p.m. (registration is at AmericasMart.com/Year-Round/Calendar-of-Events).
Brands in AmericasMart's holiday and floral category – the largest permanent collection in the world with some 100+ showrooms – also are preparing for a healthy market as buyers place final orders to meet deadlines for what is predicted to be a strong 2021 holiday season. The collection runs the gamut of holiday, seasonal and décor items with major brands like Accent Décor, Allstate, K&K Interiors, Kurt S. Adler, Regency International and more plus artisan makers including Belsnickel, Heart Gifts, JingleNog, Thomas Glenn Holidays, Vaillancourt and more.
"We are beefing up for March market," said Cynde Stewart, president of Raz Imports. "One of our largest clients said, 'Be ready, March is going to be big!'"
In addition to gift and home décor product, Spring Market also will offer apparel and accessories in some 80+ cash and carry showrooms and selected order-writing showrooms with women's and children's styles.
A full list of open showrooms will be available on AmericasMart.com closer to the market.
Pre-registration, which is required, is open now at Registration.AmericasMart.com. Spring Market is open Wednesday, March 3 – Friday, March 5, 2021, 9 a.m. – 5 p.m. Preview days are Monday, March 1 – Tuesday, March 2, 2021 by appointment. For more information, visit AmericasMart.com/Spring.
All visitors to AmericasMart must follow IMC's Together Safely protocols which include the required use of PPE, temperature checks and social distancing. Details are available at TogetherSafely.com.