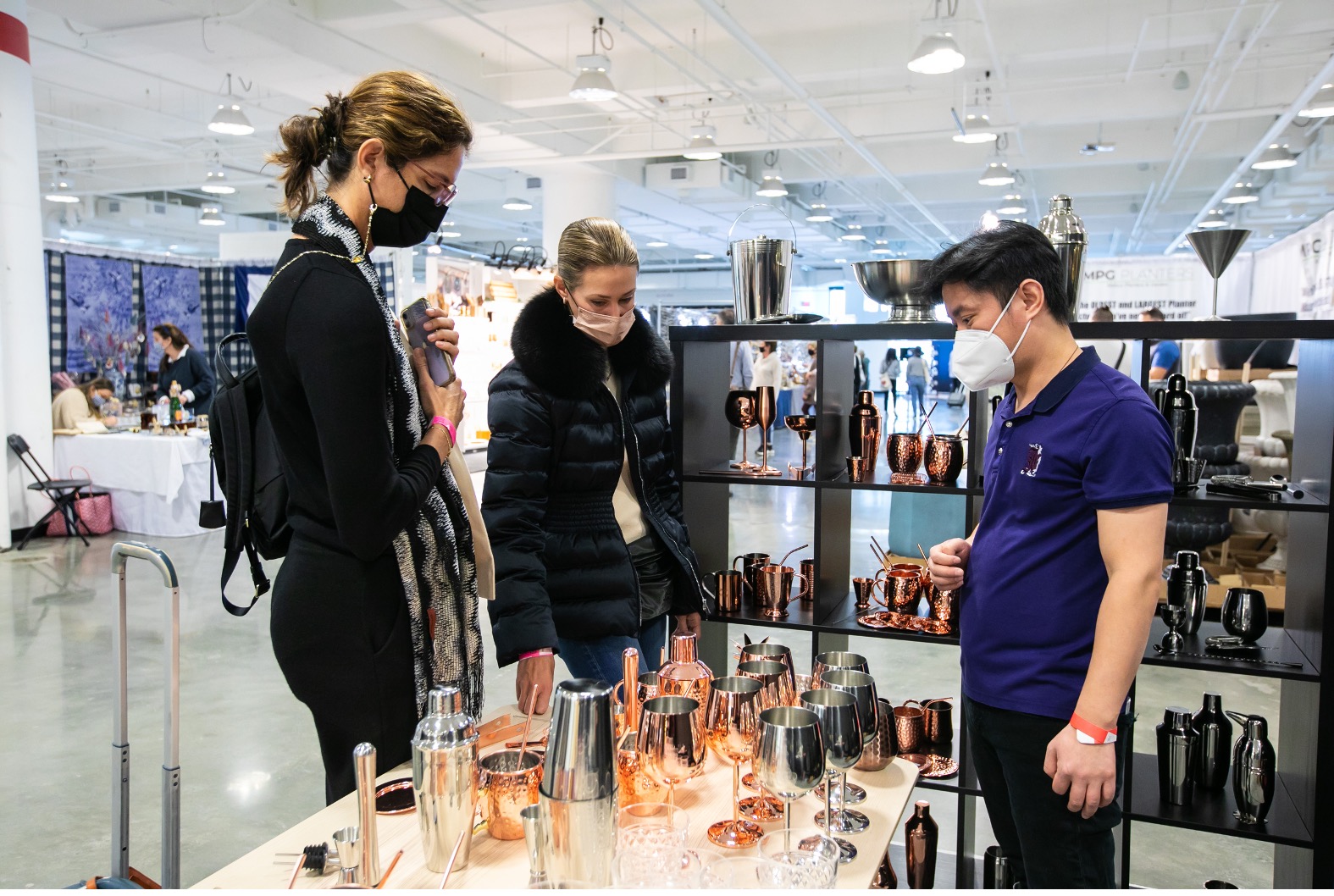 Expanded Atlanta Market Temporaries Feature More Brands and New Partnerships in Summer 2021
Accessories Council, Museum Store Association and Virginia's Finest Confirmed to Exhibit
Growing comfort in attending in-person buying and selling events plus investment from key industry organizations working to get their members back to business is driving expansion of the Atlanta Market temporary collection with nearly 1,000 lines anticipated for the Summer 2021 Market, July 14-18, at AmericasMart® Atlanta.
"Gift and décor brands are ready to exhibit at in-person markets and are choosing Atlanta Market to reconnect with their customers," said Scott Eckman, International Market Centers (IMC) cheif revenue officer. "This summer in Atlanta, buyers will have even more opportunities to discover new products and vendors."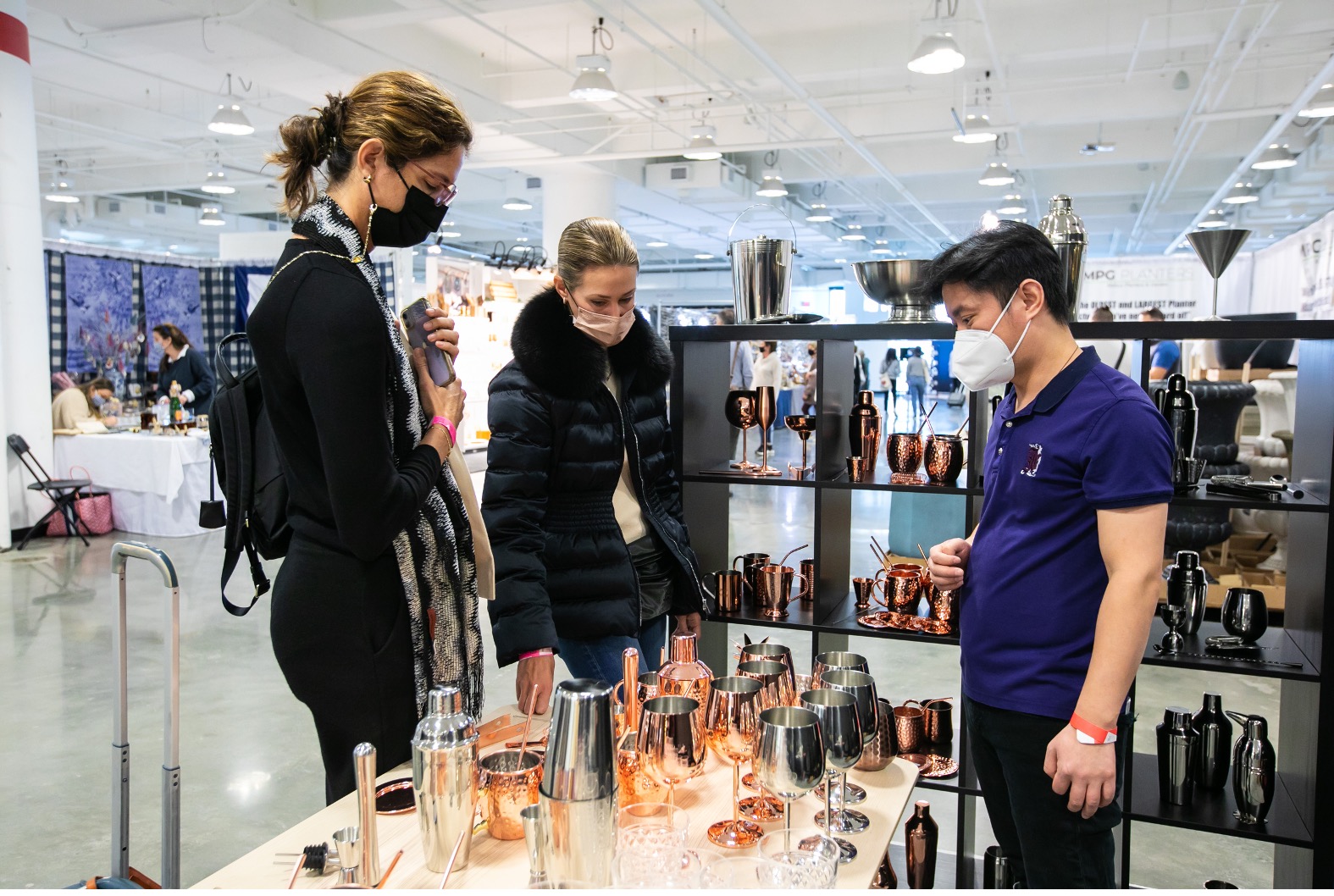 Buyers in the Atlanta Market Temporaries
Reorganization Continues for Summer
Strategic updates to Atlanta Market's temporary collection continue this summer in anticipation of post-pandemic growth across the marketplace. Four categories – Body & Soul, Body & Soul LUXE, Children's World and Modern Child – relocate to Building 3, Floor 3 to allow for expansion in those popular categories as well as expansion of General Gift and On Trend Gift in Building 3, Floor 5. Following a successful reorganization of Atlanta Market's temporary trade show for the Winter 2021 market, all other temporary categories will remain in their new locations for summer market – including Cash & Carry Jewelry (Building 2, Floor 4) and ANTIQUES (Building 3, Floor 1).
"The realignment of the Atlanta Market temporaries has created a more cohesive buying experience that will only get better as resources grow," noted Eckman. "We are forecasting a robust market for Summer 2021, with leasing activity already surpassing expectations more than two months prior to the show."
Trade Organizations Get Back to Business in Atlanta
The Summer 2021 temporaries also include the new and returning participation of vendors from three industry organizations. The Accessories Council will make its Atlanta debut in a pavilion of 15 global fashion-accessory brands within the Boutique category located in Building 3, Floor 4. Virginia's Finest® is returning to the show with a pavilion of five vendors, showcasing top-quality, made-in-Virginia products sponsored by the Virginia Department of Agriculture and Consumer Services in the Gourmet Foods category in Building 3, Floor 3. As previously announced, The Museum Store Association (MSA) will return and be featured in the new Gallery Collection located in Building 3, Floor 2 with 20+ exhibitors.
"The Accessories Council is excited to see the return of in-person shows. We are very excited to see our colleagues and their products in person!" said Karen Giberson, president. "We have always been big fans of Atlanta Market and know that many of our members have had great success at its shows. IMC offers a wonderful platform and has worked very hard to provide a safe environment for in-person shopping."
Atlanta Market presents the industry's largest collection of gift and home décor temporary exhibits. The thousands of exhibitors are showcased in 31 categories on eight floors across AmericasMart's three buildings. The temporary locations are:
Building 1
Floor 7: Fine Linens & Home Textiles; Home Accents & Home Furnishings
Building 2:
Floor 2: HIGH DESIGN; HIGH DESIGN LUXE
Floor 3: Gourmet; Gourmet LUXE; Housewares; Outdoor Living; Outdoor Living LUXE; Seasonal / Gift; Tabletop & Entertaining; Tabletop LUXE
Floor 4: Cash & Carry Jewelry
Building 3
Floor 1: ANTIQUES
Floor 2: Emerging Artists; The Gallery Collection; Global Designs; Handmade Designs; Handmade Jewelry; Made in America; Museum Gifts & Fine Gifts
Floor 3: Body & Soul; Body & Soul LUXE; Children's World; Modern Child
Floor 4: Boutique (featuring The Accessories Council); Gentlemen's Boutique; Jewelry, Fashion Accessories & Apparel
Floor 5: General Gifts; On Trend Gifts
For Summer 2021, Atlanta Market's nearly 1,000 temporaries will be presented Wednesday, July 14 – Saturday, July 17, 2021, from 9 a.m. until 5:30 p.m., and Sunday, July 18, 2021, from 9 a.m. until 2 p.m. (ANTIQUES closes at 2 p.m. on Saturday, July 17). The product mix represents a wide range of merchandise including apparel, jewelry and accessories; baby and children's; general gifts; gourmet foods; handmade gifts; home décor and decorative items; housewares; Made in America; museum-quality gifts; personal care; seasonal and holiday; stationery; tabletop and more. The full list of exhibitors is available at AmericasMart.com/browse/#/exhibitor.
Atlanta Market is the industry's premier gift, décor and lifestyle market. Housing the nation's largest gift product mix complemented by a broad selection of home décor, it features more than 8,000 brands across all categories. Held semi-annually at AmericasMart Atlanta, Atlanta Market attracts retailers and designers from every U.S. state and more than 60 countries. Pre-registration, which is required for the Summer 2021 market, can be completed at AmericasMart.com/attend/registration.
Tag:
Atlanta Market
Press Release