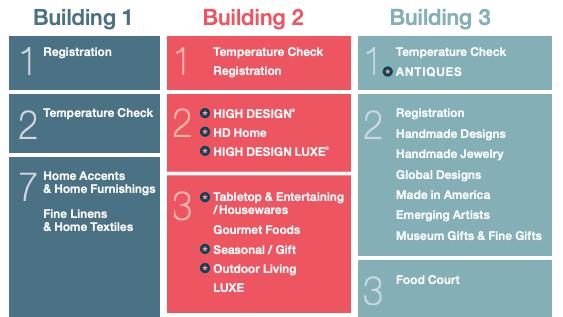 Atlanta Market Adapts Winter 2021 Temporary Presentation
Atlanta Market announced today updates to its temporary trade show presentation for the Winter 2021 market. The relocations of 15 product categories create new synergies and dynamic new merchandise groupings as International Market Centers (IMC) refines the market experience in Atlanta. Additionally, the moves allow IMC to continue to implement its Together Safely protocols related to social distancing and traffic management.
"The realignment of the Atlanta Market temporaries this winter reflects how modern retailers are buying in 2021: across category and with safety in mind," said Scott Eckman, IMC chief revenue officer. "As we reinstate the temporary exhibits at Atlanta Market, we are taking this opportunity to fine tune the categories and collection locations to safely maximize the product discovery and exploration for retailers."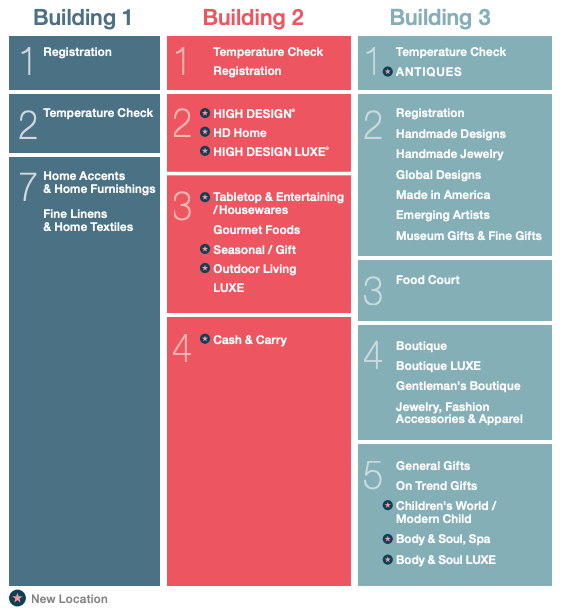 For the product collections, winter 2021 updates include:
· Building 2, Floor 2 features three categories, with HD HOME, HIGH DESIGN and HIGH DESIGN LUXE now presented together.
· Building 2, Floor 3 features eight categories: Gourmet Foods and Gourmet LUXE welcome newcomers: Housewares, Tabletop & Entertaining and Tabletop LUXE; Outdoor Living and Outdoor Living LUXE; and Seasonal / Gift.
· Building 2, Floor 4 features Cash & Carry
· Building 3, Floor 1 features ANTIQUES
· Building 3, Floor 5 feature six categories: General Gift and On Trend Gift welcome newcomers Body & Soul, Body & Soul LUXE, Children's World and Modern Child.
In January 2021, Atlanta Market presents the industry's largest collection of gift and home décor temporary exhibits. Thousands of exhibitors are showcased in 31 categories on eight floors across AmericasMart's three buildings. The temporary locations are:
Building 1
Floor 7: Fine Linens & Home Textiles; Home Accents & Home Furnishings
Building 2:
Floor 2: HD Home; HIGH DESIGN; HIGH DESIGN LUXE
Floor 3: Gourmet Foods; Gourmet LUXE; Housewares; Outdoor Living;
Outdoor Living LUXE; Seasonal / Gift; Tabletop & Entertaining; Tabletop LUXE
Floor 4: Cash & Carry
Building 3
Floor 1: ANTIQUES
Floor 2: Emerging Artists; Global Designs; Handmade Designs; Handmade Jewelry;
Made in America; Museum Gifts & Fine Gifts
Floor 4: Boutique; Gentlemen's Boutique; Jewelry, Fashion Accessories & Apparel
Floor 5: Body & Soul; Body & Soul LUXE; Children's World; General Gifts; Modern Child;
On Trend Gifts
IMC will present the temporary exhibits in line with its Together Safely protocols that outline procedures for safer markets during the COVID-19 pandemic. On the trade show floor, safety measures including wider,12-foot aisles and capacity limits for all booths will allow for traffic management and social distancing.
"Reorganizing the Atlanta Market temporaries allow us to bring them back in a way that makes buying more comfortable this winter," adds Eckman. "With some neighborhoods relocating, we are taking the to create some dynamic new synergies among related product categories. Buyers now can more easily find the quality, unique and trend-driven merchandise they expect from the Atlanta Market temporaries."
For Winter 2021, Atlanta Market's 1,000+ temporaries are presented Wednesday, January 13 – Saturday, January 16, 2021 from 9 a.m. until 6 p.m. and Sunday, January 17, 2021 from 9 a.m. until 2 p.m. (ANTIQUES closes on closes at 2 p.m. on Saturday, January 16). The product mix represents a wide range of merchandise including apparel, jewelry and accessories; baby and children's; general gifts; gourmet foods; handmade gifts; home décor and decorative items; housewares; Made in America; museum-quality gifts; personal care; seasonal and holiday; stationery; tabletop and more. The full list of exhibitors is available at AmericasMart.com/browse/#/exhibitor.
Atlanta Market is the industry's premier gift, décor and lifestyle market. Housing the nation's largest gift product mix complemented by a broad selection of home décor, it features more than 8,000 brands across all categories. Held semi-annually at AmericasMart Atlanta, Atlanta Market attracts retailers and designers from every U.S. state and more than 60 countries. Pre-registration, which is required for the Winter 2021 market, can be completed at AmericasMart.com/attend/registration.
About International Market Centers: International Market Centers (IMC) serves as the center of commerce for the furniture, gift, home decor and apparel industries, bringing buyers and sellers from all over the world together through physical markets in Atlanta, High Point and Las Vegas. With the launch of the IMC_Digital Innovations division in January 2020, IMC offers the only omnichannel solution for the home, gift and apparel industries that seamlessly connects physical and digital wholesale commerce. www.imcenters.com.
Tag:
Press Release
Atlanta Market