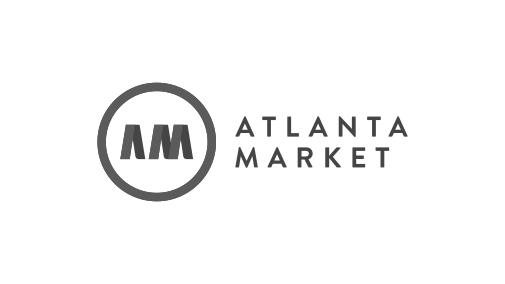 Atlanta Market Jumpstarts 2023 Buying and Selling
ATLANTA – January 18, 2023 – Strong order writing, expanded discovery opportunities, standing-room-only events and significant participation from industry organizations brought energy to the bustling Winter 2023 Atlanta Market staged January 10-16, 2023 at AmericasMart Atlanta.
"Atlanta Market is thriving!" said Bob Maricich, International Market Centers (IMC) CEO. "It felt like the Atlanta Market that buyers and sellers know and love. The surprise and delight of new product, connecting with new and old industry friends, engaging with programming -- and even waiting for a packed elevator – were welcomed signs of a confident industry looking forward."
Atlanta Market attendance posted double-digit growth over the Winter 2022 staging, attracting buyers from all 50 states and 56 countries. International traffic significantly increased, nearly doubling year-over-year with a notable 350% increase in Canadian attendees. Domestically, attendance from the Northeast grew by 40+% and the Southwest by 70+%.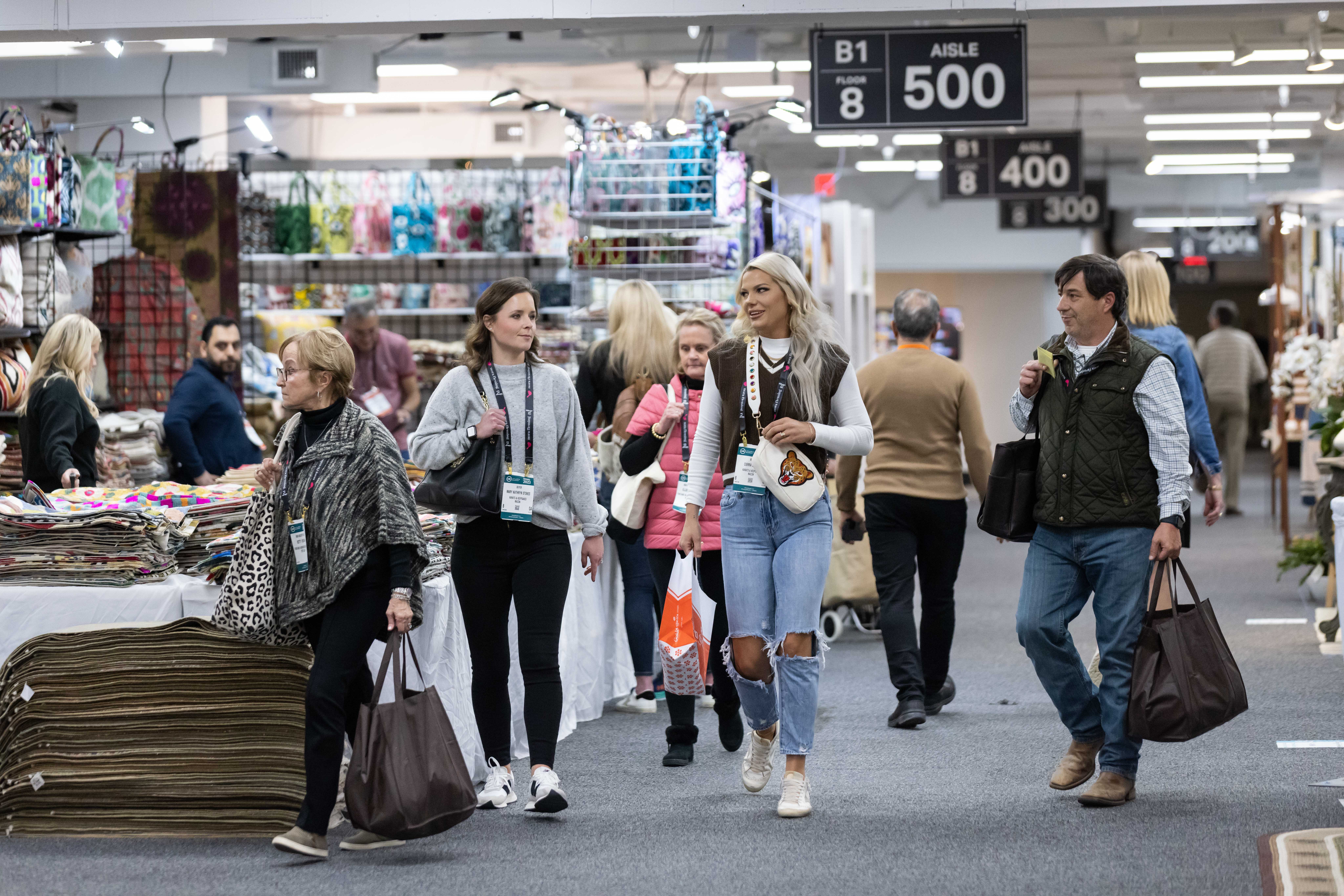 Positive Response to Casual / Outdoor Furnishings Launch
The soft launch of AmericasMart's new Casual / Outdoor Furnishings collection was a major draw at Atlanta Market this winter. Some 43 showrooms opened for their first Atlanta Market with expansive presentations for retailers and designers.
Designer Lisa Wester of Lisa Wester Interiors in Oneota, Ala. said "I enjoyed the new casual living floors. I found several interesting new vendors and was happy to see a few of my old staples there as well. It was so refreshing to see tons of fresh merchandise at Atlanta Market -- it finally felt like we've put the pandemic behind us."
"We were much busier than we expected for our first show in our new Floor 2 space – we had more than 600 badge scans," noted exhibitor James Oh, Assistant Vice President of Wholesale for Summer Classics and Gabby. "Business was definitely happening on Floor 2 with influential showrooms like Telescope Casual, Lloyd Flanders and us together. Our new showroom is going to have an impact on the Summer Classics brand."
Buying Groups and Key Accounts Return to Market
Driving Atlanta Market's attendance growth was the return of major buying groups, associations and key accounts for the first time since Winter 2020. Some 15 buying groups and associations hosted member meetings and presented programming at the Winter 2023 Atlanta Market.
Heather Smith, president The Good Toy Group, which returned to Atlanta Market after a hiatus during the pandemic, said, "Atlanta Market is our most important jumpstart to the year! As a buying group, we were able to fly or drive in from all over the country, meet and scour the market for the newest toys and fresh trends, plus connect and nurture the most important relationships we have."
GC Buying Groups' GCX: Start the Year Conference drew 80+ vendors and 160+ buyers for education, a vendor showcase and multiple networking events. Janis Johnson, president and founder of GC Buying Group commented, "What a thrill to see kitchen and housewares back in action at Atlanta Market. January's GCX/Start the Year Member Conference was a true testament to the return of an industry, with buyer and seller energy at a pre-pandemic high. Working closely, the GC team and IMC staff delivered a well-attended event with an overwhelmingly positive vibe. From education to product previews, and a unique opportunity for social interaction among store and vendor members, the event was proclaimed a resounding success by GC and all who attended."
Suzanne Lane of Gray Goose Cookery in Rhode Island who attended the Conference added "Atlanta Market was a great show for us! We were happy to network with our fellow GC buying group retailers and vendors who we had not seen for several years due to COVID."
Key accounts had a major presence at Atlanta Market with double digit growth in attendance year-over-year. Notable among the high-volume retailers that attended are Anthropologie, Bath & Body Works/White Barn, Costco Wholesale, Dillard's, Kohls Dept Store, Marmaxx Group/TJX, Nordstrom, Normans Hallmark, Williams Sonoma, Zulily and many more.
John Hanna, Design Director & Buyer for JK Home Furnishings with seven locations in in South Carolina, said, "We particularly enjoy Atlanta Market because it is our opportunity to shop for accessories and finishing touches. Our bedding, accents, florals, artwork and lighting finds from this market really take our groupings and selections to the next level. We've cultivated several new accounts from this visit that will make a big splash impact with our new introductions in late Winter and early Spring."
Unmatched Cross-Category Buying
Discovery was top-of-mind for retailers and designers looking for new ideas and opportunities in Atlanta Market's 2,100 permanent showroom and temporary exhibitors. Significant and confident order writing across the market indicated buyers were engaging the full lifestyle offerings of Atlanta Market to develop compelling product mixes.
Designer Amber Guyton of Blessed Little Bungalow in Atlanta said, "It was my first time visiting Atlanta Market. Though I have easy access to many of the showrooms and vendors year-round, I was excited to attend the different panels and events, network with fellow interior designers, explore all the temporaries and spend more time with vendors. I spent most of my time exploring new lighting, sofas, and looking for unexpected pieces like end tables and accent decor that could take my 2023 client projects up a notch."
Exhibitor Mark Reaves, executive vice president of resort / souvenir brand EMI Sportswear, said he was "blown away by the traffic. This was one of our top five shows ever and we do 25 shows per year." He reported a 30% close rate on drop-in appointments with orders from 23 different states.
Some 300+ new permanent showroom and temporary exhibitors encouraged even more discovery for Atlanta Market buyers.
Handmade pet toy exhibitor Michael Young of Wacky Walkr expanded from primarily pet-focused trade shows to reach a wider audience for his product. "This was our first time exhibiting at ANY gift show and it's been fantastic. The response has been amazing and the buyers have been wonderful." Young reported orders from a broad range of retailers from gift boutiques plus pharmacies, hospitals, hardware stores and furniture stores hailing from across the United States.
Exhibitor Lauren O'Shea Logan debuted her Night Baker gourmet line to great success. "I wanted to launch at the best market and everyone said to go to Atlanta. They were right! After this market I am officially an international brand with a presence in Canada plus 17 states."
Beyond buying, retailers and designers were fully immersed in Atlanta Market programming. Some 20+ events over three days drew expansive crowds looking for business-building education, inspiration and celebration.
The Summer 2023 Atlanta Market is July 11-17, 2023, at AmericasMart Atlanta. The debut of Casual Market Atlanta runs July 10-13, 2023
Atlanta Market is a dynamic and immersive wholesale sourcing destination housing the nation's largest product mix for gift complemented by a broad selection of home décor, furnishings and apparel and home to the nation's largest outdoor living presentation. It features three buildings with 51 floors and thousands of brands that attracts retailers and designers from every U.S. state and more than 60 countries. For information, visit AtlantaMarket.com.
About International Market Centers: International Market Centers (IMC) serves as the center of commerce for the wholesale furniture, gift, home decor and apparel industries. IMC has more than 60 years of relationships and experience creating scalable business platforms for wholesale commerce. Our premium showroom spaces spanning more than 20 million square feet in High Point, N.C., Las Vegas and Atlanta, paired with our digital tools connect the wholesale industries we serve. IMCenters.com.
###
Media Contacts
Chelsea Peabody Bohannon, 404.220.2141 or cbohannon@imcenters.com
Cathy Steel, 203.340.9251 or cathysteel@cathysteelassociates.com
Note: Images available at https://www.dropbox.com/scl/fo/txhppr43rpqyggyhg25qb/h?dl=0&rlkey=4y7k1l3urdb57xaznm7thdu3o