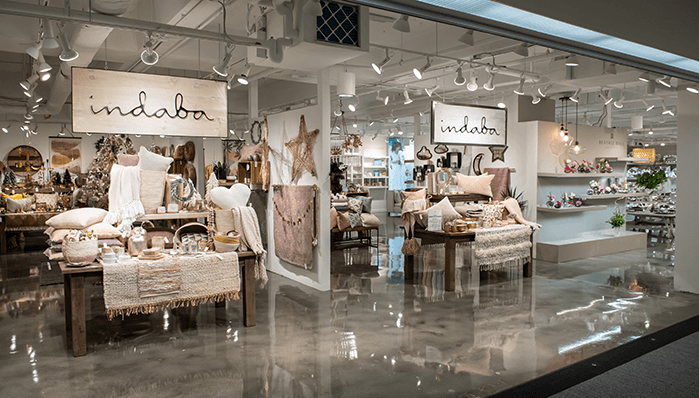 Atlanta NEXT Inspires Atlanta Market Gift Updates
30 New, Expanded and Relocated Showrooms Set to Open in Winter 2021
ATLANTA – Atlanta Market continues to refine and remerchandise its gift collection in the lead up to its Winter 2021 staging with three new showrooms and 27 expanded and relocated showrooms opening since its last winter event. Complementing these updates is nearly 100 showrooms which have recommitted to the market with lease extensions. Together these brands will present a vibrant and intuitive marketplace January 12-19, 2021.
"Gift brands are committed to Atlanta Market," notes Scott Eckman, International Market Centers chief revenue officer. "They know that this market is the place to reach East Coast retailers, so they are opening new showrooms, expanding and reimagining their spaces, bringing in new lines and committing to be a part of this comprehensive marketplace both now and in the future."
Ivystone showroom in the new Lifestyle collection in Building 2, Floor 11
New in Seasonal, Outdoor Living and Lifestyle
The Atlanta NEXT campaign, which enriches all categories, remerchandises resources and improves the AmericasMart buildings, continues to draw new brands to the Atlanta Market gift category. Winter market debuts are: a joint location for Huras Family Ornaments (Polish glass) / Trestrella (artificial Christmas trees, wreaths, garland, decorations and lighting) in Building 1, Floor 20; Botanical Collection (European-style hand-crafted pottery) in Building 2, Floor 9; and Lazy One (pajamas and gifts for men, women and kids) in Building 2, Floor 6.
New Destinations Emerge from a Reorganized Marketplace
The creation of a Lifestyle collection in Building 2, Floor 11 anchored by Appelman Schauben and Ivystone inspires additional lifestyle expansion on adjacent Floors 10 and 12. Floor 12 welcomes relocating C & F Enterprises (home décor, linens, bedding and gifts) with its C&F, Carol & Frank, Elizabeth York and Gallerie II lines; PD Home & Garden (home, garden and seasonal décor) expands and The Gerson Company (home decor, gift, and seasonal) has its first winter market in its relocated showroom. On Floor 10, Napa Home & Garden (home, garden, floral, holiday, candles and apparel) relocates its flagship showroom to anchor the floor which also features a relocated showroom for DB Imports (store/showroom displays and accent furniture) and the winter debut of the relocated Tag (seasonal décor, home decor, and everyday basics) and Vera Bradley (luggage, handbags and accessories) showrooms.
Additional relocations and expansions driven by the Atlanta NEXT campaign are found throughout the gift offerings. Updates to Building 2, Floor 18 continue its emergence as a foundational gift, garden, seasonal and accessory resource. Notable this winter, Giftcraft (home décor and home accents) more than doubles its space; OneCoast grows by more than a third; and Transpac (gifts, home décor, garden accents and seasonal decor) celebrates its first winter market in its larger relocated showroom.
More Gift updates in Building 2 include Collins Painting & Design (handmade wood signs and decorative accessories) expanding on Floor 6; The Country House (home decor, florals and linens in vintage farmhouse and primitive country styles) relocating on Floor 6; Dayspring Cards (Christian cards and gifts) relocating on Floor 7; Diverse Marketing (gift and toy representatives of Kiss Me In The Garden, Popsockets, Suck UK, Thumbs Up and more) expanding on Floor 14; India House Brass (home decorative accessories) relocating on Floor 13; Glitterville / one hundred 80 degrees (whimsical holiday décor and giftware) relocating and expanding on Floor 15; Pine Creek (decorative accessories, linens and handbags) relocating on Floor 6; Roman (inspirational gift and home décor) relocating and expanding on Floor 14; Seasons Jewelry (jewelry and accessories) relocating on Floor 6; and Upper Deck (giftware, home and office accessories) relocating on Floor 7. Additionally, The Royal Standard (fashion accessories, home décor, holiday decorations and entertaining essentials) marks the winter debut of its expanded space on Floor 15.
Movement is also redefining specialty categories. In Seasonal / Gift three updates in Building 1 are Creativeworks (floral supplies and home decorations) relocating on Floor 19; Mills Floral & Home (every day and seasonal home décor) relocating to Floor 20; and Kel-Toy (gift, floral, craft, packaging, and wedding decor) relocating to Floor 16. In Tabletop & Entertaining, Badash Crystal (handcrafted crystal) relocates in Building 2, Floor 8.
Gift Brands Extend Their Atlanta Market Commitments
Atlanta Market also marks the renewals of nearly 100 companies at the Winter 2021 Market. Representing all categories, highlights include A & B Floral Supply Co., Abbott, American Life Brands, Brouk and Co., Christopher Radko, Classic Touch, Contrast, Cose Nuove, Inc., Coton Colors, Darrah & Co., Delectable Samplings, Dugan-Bliss & Associates, Dynasty Gallery, Earthwood, JanMichaels, Kalou, Mariposa, Oggi, Regency International, Road Runners, Vermont Christmas and more.
"Our plan to grow and refine the gift offerings in Atlanta creates the best market opportunity for the thousands of brands who are committed to Atlanta Market," adds Eckman. "We are proud that so many manufacturers, importers and representative groups have made the decision to maintain their presence at AmericasMart in this difficult time and we celebrate them as important elements of our unmatched Gift offerings."
Atlanta Market features more than 700 gift showrooms located on 19 floors between Buildings 1 and 2. General gift product is augmented by specialty categories including the new Lifestyle collection plus Gourmet & Housewares, Tabletop & Gift, The Gardens, Children's World and Seasonal / Gift. January 13-17, some 26 temporary categories showcase thousands of additional gift lines in verticals including artisan products, apparel, children's, gourmet, jewelry, outdoor living, stationery, spa products, tabletop and more. The full list of showrooms is searchable at AtlantaMarket.com.
Atlanta Market is the industry's premier gift, décor and lifestyle market. Housing the nation's largest gift product mix complemented by a broad selection of home décor, it features more than 8,000 brands across all categories. Winter 2021 Atlanta Market runs January 12-19, 2021, 9 a.m. – 6 p.m. Attendees must register for one of two sessions and follow IMC's Together Safely protocols including the use of PPE and temperature checks. Additional information is available at AtlantaMarket.com.
Atlanta NEXT is a multi-stage capital and strategic investment plan that transforms the AmericasMart Atlanta business through enrichment of all categories, strategic remerchandising of resources and improvements to all buildings. Progress on the plan in 2020 included showroom remerchandising resulting in consolidated Open Year Round resources and a new lifestyle destination in Building 2, and the first phase of the redesign of the Building 1 lobby. For a full list of Atlanta NEXT updates, visit AmericasMart.com/AtlantaNEXT.
Tag:
Atlanta Market
Press Release