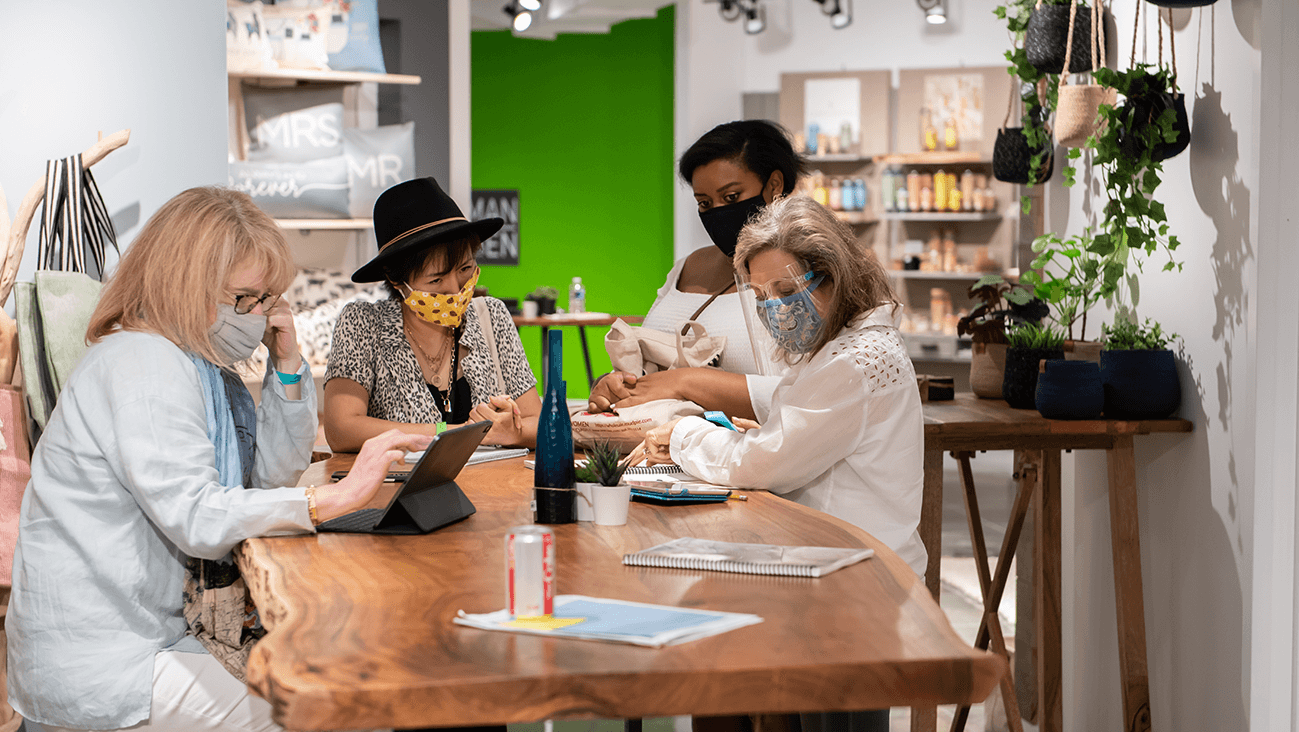 Physical and Digital Updates Drive Optimism for Winter 2021 Atlanta Market
ATLANTA – October 9, 2020 – Atlanta Market opens International Market Centers' (IMC) 2021 market year with a renewed optimism powered by expansive product resources, market center physical updates and new digital tools set to optimize the market experience for buyers and sellers. The Winter 2021 Atlanta Market is January 12-19, 2021 with temporaries January 13-17, at AmericasMart Atlanta
"2020 had many challenges, but we are energized as we look toward 2021," said IMC CEO Bob Maricich. "We are starting the year off strong in Atlanta with the products, tools and experiences that will help buyers and sellers get back to business."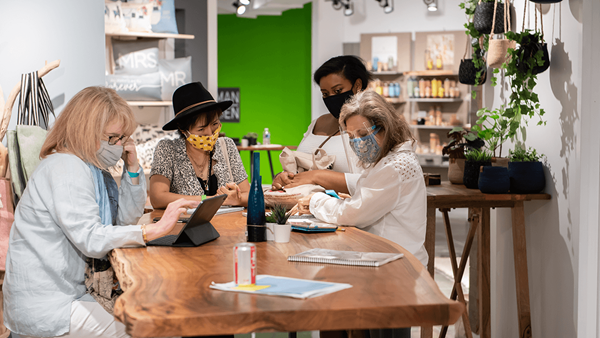 Buyers following Together Safely protocols at Atlanta Market
Temporary Exhibits Return to Market
After a hiatus during the summer markets, IMC plans to return the expansive Atlanta Market temporaries in January, with physical modifications and safety precautions in place. (NOTE: full details to be outlined closer to the market.) The Atlanta Market temporaries present thousands of gift and home décor brands in all three AmericasMart buildings.
"The temporaries are a key element in product sourcing, and it is vitally important for buyers that we stage them at Atlanta Market this winter," said Scott Eckman, IMC chief revenue officer. "Our temporary collection is a trend incubator and key destination for retailers and designers to discover new brands and products."
Atlanta NEXT Continues
IMC enters the next phase of its transformation of the AmericasMart campus in January 2021. Buyers will find additional remerchandising of the 1,000+ showrooms throughout Buildings 1 and 2 that further hones product categories plus physical updates to the campus. "Refinements to the overall buying experience in Atlanta are on track, even with delays caused by the COVID-19 crisis," added Eckman. "We have made significant progress on the project and are excited to be one step closer to completion."
More than 300 Home Décor showrooms presenting lighting, accent furniture, rugs, wall décor, casual furniture and linens are the focus of continued refinements on 12 floors in Building 1. Construction also continues on the reimagining of the Building 1 lobby, which will feature the debut of lobby-level showroom for design-driven lighting brand Currey & Company in January. According to Eckman, IMC anticipates full completion of the lobby renovation project in Summer 2021.
Atlanta NEXT remerchandising of the Gift offerings continues in Winter 2021, with the official debut of the Appelman Schauben and Ivystone anchoring the market's new Lifestyle Collection on the 11th floor of Building 2. Additional updates are found across the 700 showrooms located on 19 floors between Buildings 1 and 2 that showcase gift and specialty categories including Gourmet & Housewares, Tabletop & Gift, The Gardens, Children's World and Seasonal / Gift.
(NOTE: Follow Atlanta NEXT showroom relocations and campus changes online at AmericasMart.com/AtlantaNEXT.)
New Digital Platforms and Tools
Winter 2021 marks the launch of new, integrated digital tools for Atlanta Market. A new dedicated Atlanta Market website is set to launch before the Winter market with enhanced planning tools. It will feature a highly improved brand and product search that is integrated with IMC's interim B2B ecommerce tool, ShopZio. At market, the AmericasMart App will continue to offer exhibitor directory access as well as wayfinding and market planning tools.
In addition to the new website, Atlanta Market will continue to utilize the digital tools it launched this summer. The Atlanta Remote page is a hub for information about the market with links to webinars and planning tools including the Atlanta Market Magazine, Catalog Connexion database of searchable catalogs, the Market Snapshot product showcase and the Portman + Peachtree blog.
Atlanta Market's signature educational programming is presented virtually for Winter 2021. Webinars on a range of topics including trends, business education, market preparation and the current retail and design climate will be presented before the market. At-market, attendees can expect activations like share-worthy installations, entertainment and other market moments.
For the Winter 2021, Atlanta Market showrooms are open Tuesday, January 12 – Tuesday, January 19, 9 a.m. – 6 p.m. and temporaries are open Wednesday, January 13 – Sunday, January 17, 9 a.m. – 6 p.m. Market-goers can book flights, reserve hotel rooms and parking at AmericasMart.com/travel.
The Winter 2021 Atlanta Market will follow IMC's Together Safely protocols. Before market, buyers must register online for one of two buying sessions at AmericasMart.com/Registration. On-campus safety procedures include the required use of PPE, temporal checks, capacity limits and social distancing measures.
Atlanta Market is the industry's premier gift, décor and lifestyle market. Housing the nation's largest gift product mix complemented by a broad selection of home décor, it features more than 8,000 brands across all categories. Held semi-annually at AmericasMart Atlanta, Atlanta Market attracts retailers and designers from every U.S. state and more than 60 countries. For more information, visit AtlantaMarket.com.
About International Market Centers: International Market Centers (IMC) serves as the center of commerce for the furniture, gift, home decor and apparel industries, bringing buyers and sellers from all over the world together through physical markets in Atlanta, High Point and Las Vegas. With the launch of the IMC_Digital Innovations division in January 2020, IMC offers the only omnichannel solution for the home, gift and apparel industries that seamlessly connects physical and digital wholesale commerce. www.imcenters.com.
Tag:
Press Release
Atlanta Market