Markets Matter: Shopping Gift and Apparel at AmericasMart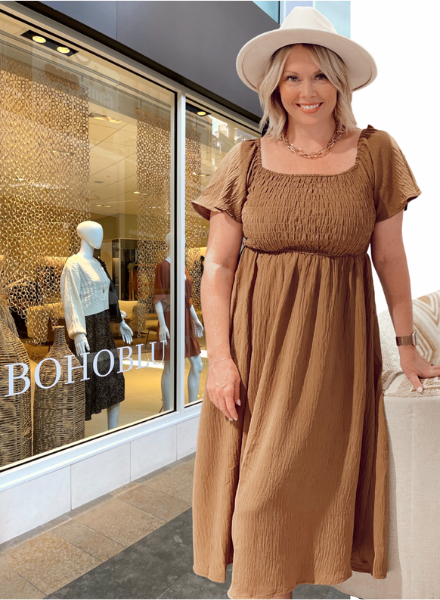 FOR GIFT AND APPAREL RETAILER BOHOBLU, MARKETS MATTER
It's been nearly a decade since Jenny Stilley and her husband, Patrick Golimowski, first opened the doors of BohoBlu, their apparel and gift shop that now has five locations throughout North Carolina. And at this point, she considers herself a pro at shopping at AmericasMart to restock old favorites and discover new.
"Our very first market was the Atlanta Apparel Market," recalls Stilley. "It was exhilarating. I was a little overwhelmed at first, but I took it all in. I sat at every fashion show, walked every floor. It was like at that moment, I knew this is what I'm supposed to be doing."
The validation was welcome, since she and her husband gave up their jobs (hers was running an insurance brokerage, his was in sales at Wrangler) to open their dream shop. Their inspiration: a boutique discovered during their honeymoon in Puerto Rico. "There was something about the energy in that shop," recalls Stilley, who was charmed by the engaging sales staff and the selection of affordable, unique clothing. Stilley had left the shop with two cute new dresses and the dream of opening a similar store back home in Greensboro, N.C.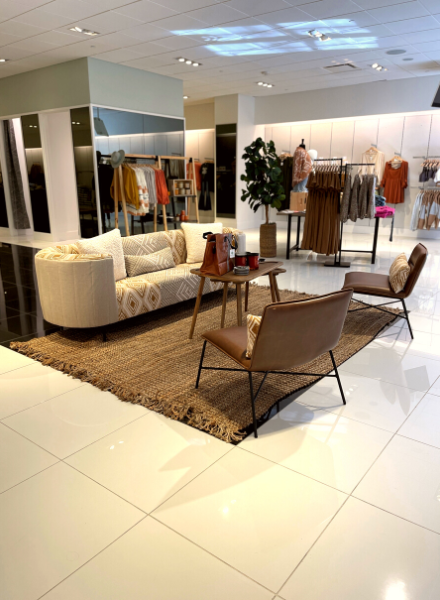 When she got home from their honeymoon, she looked up the name on the tag of her new dresses and contacted the company about representing their brand in North Carolina. "Then I emailed my new husband," says Stilley. "I said, I don't know what I've done here, but I think I just started another company." Stilley started selling the dresses at a booth at a shared mercantile. A few months later, a vacant storefront opened on the ground floor of the building housing her insurance business, and she and Patrick took the plunge, signing a lease. Within days, they'd moved everything out of the multi-vendor space into their new shop.
That was September 2012. In the three years that followed, Jenny and Patrick opened two stores a year, but then closed two of the less-profitable locations shortly before the COVID-19 pandemic struck. The company's current stores range in size from 1,500 to 7,000 square feet and include the original location in Greensboro, plus stores in Winston-Salem, High Point, and Burlington. Their fifth store in Durham opened last fall, and represents a new direction for BohoBlu, with the addition of more home furnishings to the product mix… a natural extension considering that the location was previously a furniture store.
As she has from the start, Stilley orders most of her inventory from AmericasMart, whether it's gift items and home furnishings found at Atlanta Market, or apparel sourced from Atlanta Apparel.
When Jenny first opened BohoBlu, gifts and home décor products were a part of the mix. Her vision was for her customers to be able to find a cute outfit to wear to a dinner party, as well as a gift for the host. But over the years, she started phasing out the home goods in favor of the stronger-selling apparel. "The stores lost a little of their character without the home goods," she says. "So I'm actively bringing that back. It adds so much, to have that grab-and-go gift, plus a cute top."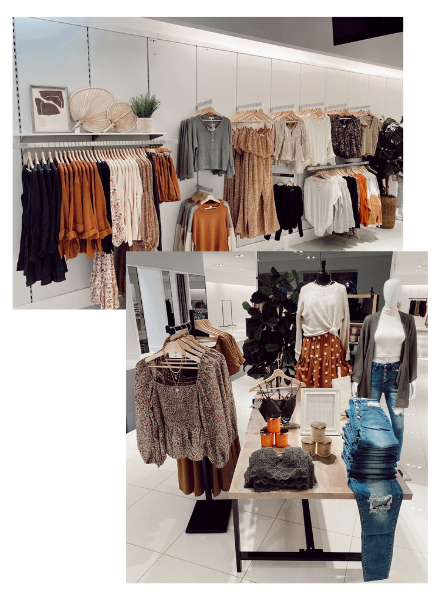 For apparel, she has strict budgetary categories: a certain amount allotted for tops, this much for denim. The first day, she walks the market, "just seeing who has what," she says. The rest of the market, she orders by category based on her open-to-buy plan. That original brand that Stilley discovered in Puerto Rico isn't part of their merchandise mix anymore, but she now carries top brands like Wishlist, Peach Love CA, Andre by Unit, Hyfve, Oddi, and Umgee.
"For gifts, I can be a little more impulsive," explains Stilley. "It's all based on if I see something and think my customers will love it." Stilley knows what works for her shops and her customers. Bath bombs have been a perennial bestseller, as well as body care products like lotions and soaps. Handbags, coffee mugs, and greeting cards are also strong sellers.
For the new home décor department at the Durham store, the company has worked with Bloomingville and Creative Co-Op, among other vendors, to curate a product mix that includes sofas, chairs, area rugs, wall hangings, and more.
When it comes to jewelry, Stilley took an unusual tactic: two years ago, she started a wholesale jewelry business of her own since she was buying such a large volume for her stores. Her goal: to help other boutique owners by finding new jewelry trends and sourcing the best products through her travels. "I feel like accessories are such a great margin-builder, and a great gift option," she says. Her jewelry company, My Girl in LA, sells wholesale and exhibits at Atlanta Apparel.
Stilley's approach to market visits has evolved as she's become more experienced. "In the beginning, I was such a planner, I'd go through the exhibitor list and Google them. I'd look at the ads in the magazine to see what matched our style. I'd make a list of everyone's booth numbers to make sure I hit them."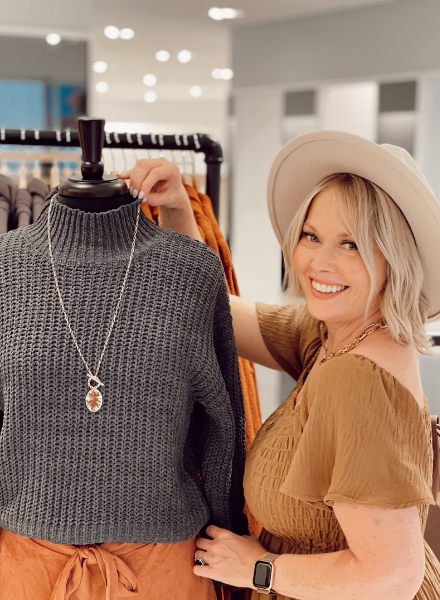 Now she has more familiarity with the market, where her favorite vendors are, and where newer exhibitors will be. She walks every floor of the apparel market and all the temps, with a goal of scouting a couple of new vendors at every market.
"I love my vendors more than anything, but it's always important to keep an eye out for what's next," says Stilley.
Her parameters are usually to make sure she finds high-quality products within her price range, which she is trying to increase, since she believes the market for affordable fashion is becoming saturated.
For Atlanta Market, she walks the floors and looks at the window displays to see what catches her eye, though she makes sure to always tour the showrooms of some of her favorite vendors like Two's Company and Just Got 2 Have It.
All in all, she's aiming to offer a breadth of product assortment that will appeal to her customers, who range from recent college grads to young moms to older customers. "I try to seek out products that are ageless, where anyone can pull off the styles we select. Fashion keeps me young… I love that about it!"
Learn More About Atlanta Apparel
Tag:
Atlanta Market
Blog Post