Atlanta Food Finds
If you're heading to Atlanta for Market, it's time to start making plans for what to do outside of our three buildings. Trust me, all I want to do after a long day at Market is to put my feet up and rest, but Atlanta has so much to offer. We rounded up some of our favorite noteworthy places to grab a bite to eat and enjoy a refreshing cocktail. And if you're not up for a night on the town, there's always delivery!
Atlanta Little Italia
You read that right! Atlanta has our very own Little Italy. What started with just a pizzeria has flourished into a popular area recreating the energy of a classic Italian street scene. Head over to the Westside for Antico Pizza Napoletana, Gio's Chicken Amalfitano, Caffe Antico, and Bar Amalfi. These restaurants offer beers and wines, but are also BYOB in case you must sip on your favorite beverage. There's something for everyone!
Delbar
Delbar is an Atlanta Market team favorite these days! Situated in the popular Inman Park neighborhood, Delbar is Chef Fares Kargar's love letter to all the people in his life who helped shade his appreciation for Middle Eastern cooking. There is plenty of outdoor and indoor seating and can accommodate larger groups in a fun atmosphere. Some of our recommendations include the Heirloom Tomato Salad, Labneh, Za'taar Fries, and Sabzi Polo Rice. Choose from a selection of crafted cocktails to cheers to a great Atlanta Market!
Estrella
Estrella is a new rooftop cocktail bar above Bazati on the Beltline. I love to visit Estrella for a breathtaking view of the skyline at sunset. Head here to find your new favorite summer cocktail, their Champagne Hibiscus Punch. Their menu changes seasonally to reflect locally sourced ingredients, so you can be sure to find something new each time you visit.
Centennial Park District
If all of this sounds too ambitious, downtown Atlanta has plenty to offer in walking distance from AmericasMart. The Centennial Park District features more than a dozen options including STATS Brewpub, Dos Bocas and the rooftop SkyLounge at the Glenn. Take a seat and dine al fresco before heading back to your hotel and resting up for another day at Market.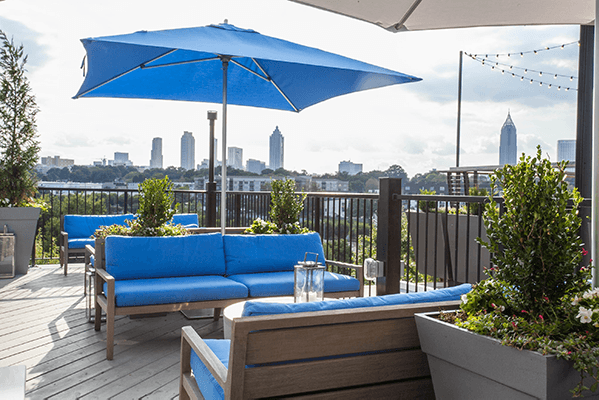 Estrella
Fox Bros. Bar-B-Q
If you want to eat some mouth-watering barbecue while you're down South, look no further than Fox Bros. Bar-B-Q. You can't go wrong with any of their meats, but don't forget the sides – Frito Pie, Brunswick Stew and ChiliMac are a few faves. Parking is limited, so ride sharing is the best bet. Sweet Auburn Barbecue is another great option located in the Poncey-Highlands neighborhood.
Five Daughters Bakery
We love a good donut; who doesn't? If you have a sweet tooth, you'll want to try this one out. Five Daughters Bakery has been in Ponce City Market for a few years, but they recently opened a new location in Westside Provisions. Head over to the Westside to avoid paying for parking and enjoy a 100 layer donut. They feature new flavors each month giving us a reason to keep on coming back for more.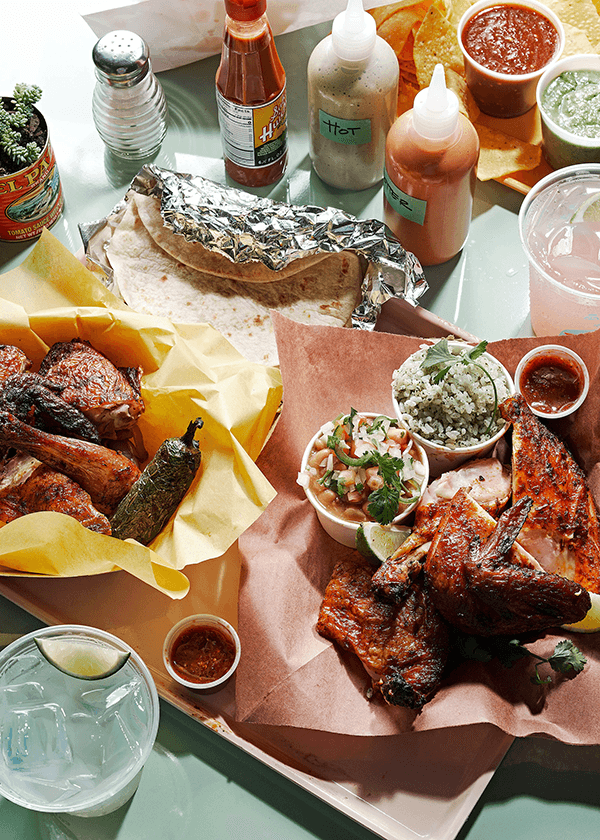 Little Rey
Little Rey
Atlanta culinary legend Ford Fry's next adventure brings a taco and chicken al carbon restaurant to Piedmont Avenue. If you need to fulfill your Tex-Mex cravings, head here. You can even order in their take-out window and head right back to your hotel to relax.
Tiny Lou's
If you're looking for an all-in-one hotel and dining experience to make it easy, book your stay at the boutique Hotel Clermont and enjoy the rooftop bar, Cafe Clermont for breakfast, and Tiny Lou's for dinner.
Find even more recommendations around the city...
We're the first to admit that Atlanta Market can be a bit exhausting. If getting out of downtown just isn't in the cards, the hotels around AmericasMart are just what you need. Hotel Indigo and the Ritz Carlton are two options for your stay that also offer delicious meals after a long day of discovering new product. A little room service never hurt anyone!
Looking for takeout? Atlanta Magazine rounded up 50 of their favorites here→
Tag:
Blog Post
Atlanta Market