For the Global Good
A Black-owned boutique in Atlanta seeks to empower artisans
In LaToya Tucciarone's childhood home, global culture was a big deal. Music from around the world was in constant rotation on their record player, and African artifacts decorated their home. Her parents' love for world culture inspired Tucciarone to become president of her high school's International Club.
Her love for travel and far-flung cultures continued in her adult life as she traveled the world – often with her husband – on photography assignments or with nonprofit organizations.
"Working with so many nonprofits, I could see the concept of white saviors play itself out again and again in some of these marginalized communities," recounts Tucciarone. "We could see organizations trying to help by bringing aid, but not empowerment."
It was then that Tucciarone was inspired to find a way that she could bring empowerment to artisans "in a way that's both dignified and honoring," she says.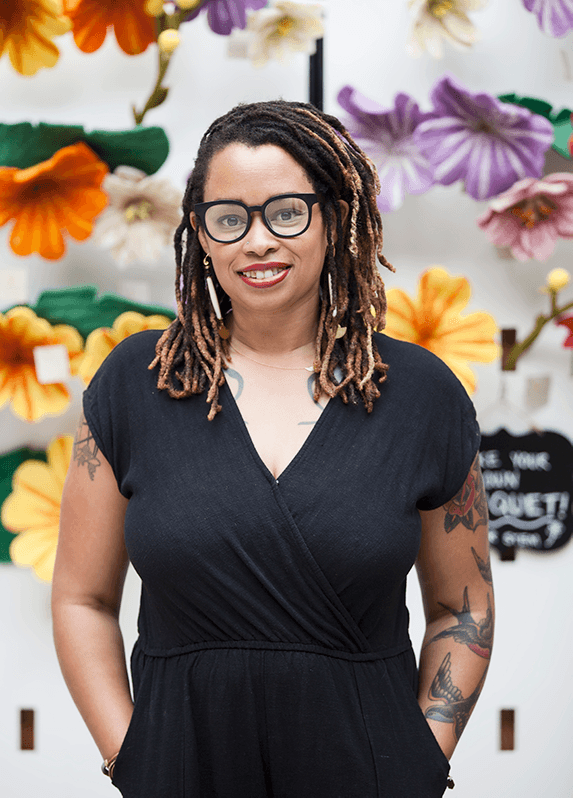 The idea set the stage for what was to become her boutique, SustainAble Home Goods. Today, this shop is in a 1,000-square-foot space in Atlanta's Ponce City Market, a retail and food hall located in a historic building. The store carries home goods, jewelry, clothing, art, decorative accessories, packaged foods, personal care products, and other goods, each chosen with careful consideration regarding its source, sustainability, and producer.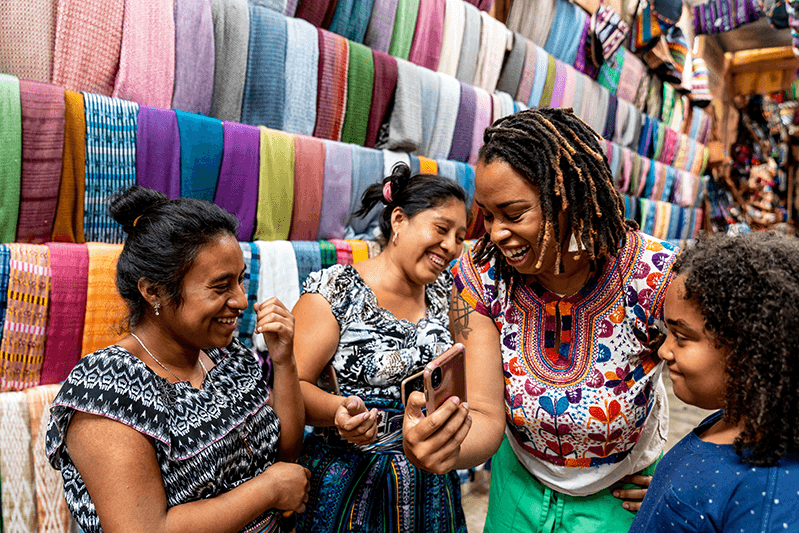 Tucciarone first became familiar with the idea of a business being used as a platform for empowerment through job creation when she worked for the fair-trade jewelry company, Noonday Collection. The company partners with artisans across the globe, paying the makers a living wage. "The more I dove into the model of fair trade, and what that looks like and means, the more like I felt like this was the conglomeration of engaging in a hard issue in a dignified and honoring way," says Tucciarone.
But while she likes jewelry, "home decor is more of my jam," says Tucciarone. She saw a need for a place where people could shop ethically for their homes, and when she and her husband went to Guatemala in 2017 for a work trip, they met with artisans there, buying products to bring back. She started selling the products, first on Facebook and then at festivals and markets.
Putting Down Roots
Her first brick-and-mortar location was a 163-square-foot shipping container in the courtyard of Ponce City Market…not ideal, because it was cold and windy, but a good start. "I tried to make it the most beautiful shipping container I possibly could," laughs Tucciarone. After 10 months, the shop was doing well enough to move into a pop-up space inside the building.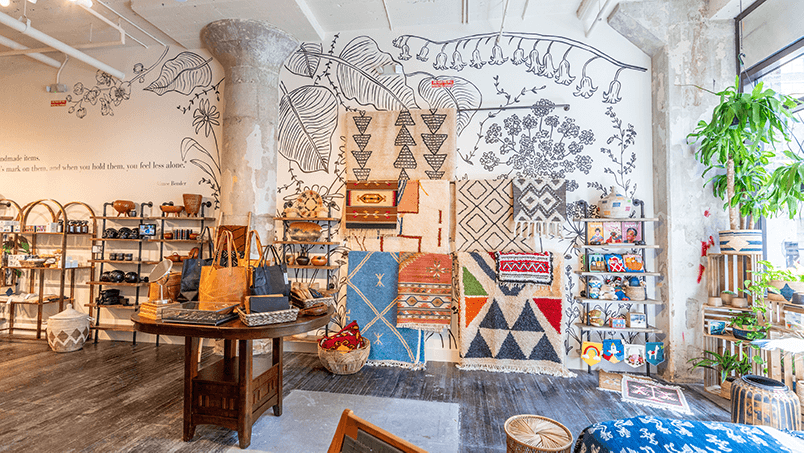 Then COVID happened, and everything shut down.
"We had to pivot," says Tucciarone. "I had two employees, and I said, we have to get everything online." They photographed their stock, put it online, and started filling orders.
In June of 2020, another national event rocked their business: the Black Lives Matter movement. "All of the sudden, Black-owned brands were thrust into the spotlight, and we were one of them," says Tucciarone. "We had hit another pivot point."
Her tiny team of three was working at an exhausting pace, filling and shipping orders and trying to keep up with growth, but Tucciarone was nervous that the rate of sales would not sustain itself.
"As a Black business owner during that time, and even now, I had to really ask myself: is this real? Is this a moment, or a movement?"
But Tucciarone chose to believe that she and her staff could wow new customers with their product selection and customer service, turning them into lifelong customers. She hired more people and, in August 2020, moved yet again, this time into the permanent spot the store occupies today.
Products with a Purpose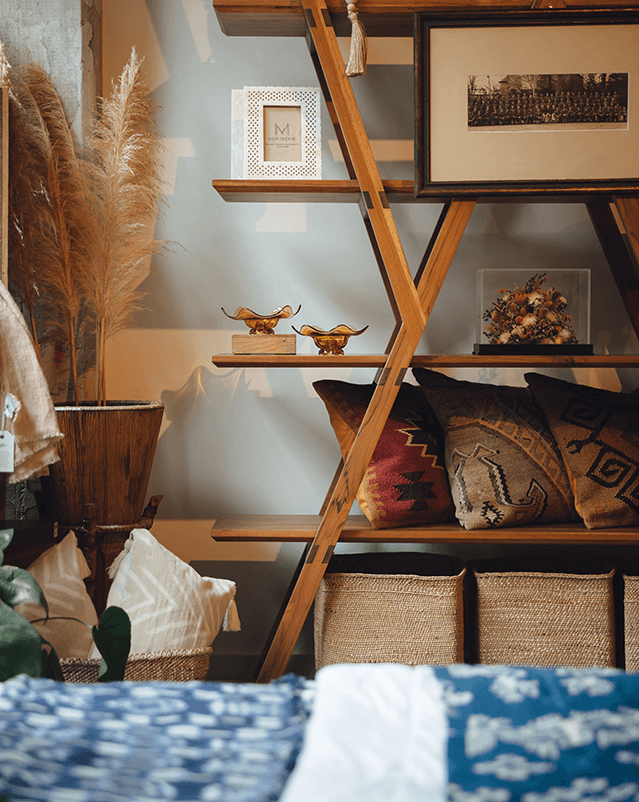 Throughout the pandemic, Tucciarone adapted and finessed her merchandise assortment and her sources. She asked her Guatemalan artisan suppliers to start producing face masks. To this day she's sold roughly 2,000 masks, which helped keep the artisans working and earning in a time when the pandemic has brought tourism to a standstill. "To bring money to their community in the middle of a pandemic, through work by their own hands, is awesome," says Tucciarone.
While she hasn't been able to travel to other countries this year to continue sourcing products from far-flung artisans, she's looking closer to home. She's started carrying vintage items, seeking especially items that speak to the Black experience in America, such as paintings or portraits, or even an original Sesame Street record album that reflects the influence that Black culture had on the show. "Vintage is just another form of sustainability," notes Tucciarone, pointing out that people default to buying everything brand-new, when beautifully made vintage items have stood the test of time.
She's also piled her four kids — ages 5 to 12 — into the car for road trips to New Mexico and Arizona, where they visited with Native makers, including potters, silversmiths, and other artisans in the quest to support the craft community there.
Tucciarone always feels like she is able to better tell the story of a piece and who made it when she's face-to-face with her customer, but having a robust website has helped the company grow its reach and find a market for pieces beyond just its Atlanta-area customers. "Having that online exposure has really changed how we can explore our business," she notes. "You can carry a wider spectrum of pieces because you know you'll find the right person for them." Instagram has also been a boon; she found that highlighting products made by Black artisans was a meaningful way to observe Black History Month.
In addition to the social responsibility focus on her store, the sustainability that is built right into the name, continues to be at the core. Orders are shipped using recycled boxes and compostable paper, while recycled and recyclable bags and packaging are also used inside the store. It's one of the few stores in Atlanta with a refill station for dish soap, detergent, and other cleansers.
Tucciarone will continue to cater her store to the conscious consumer and encourage shoppers to be intentional with the brands and businesses they patronize.
"People want brands that stand for something, and that have a strong story," she notes. "They want to support Black-owned businesses, ethical products, and sustainability."
Built to Last
Tucciarone credits the management at Ponce City Market for helping her grow at a pace that she could keep up with. Her move from shipping container to permanent storefront was frustratingly slow at times, but the building's management acts as an incubator for its tenants, making sure that they don't take on a lease or a space that they're not equipped to handle. And today, Tucciarone herself sees herself as an incubator. "I'm now in a position to help brands grow and develop, and helping to develop people to think with a business mind."
She says, "A business doesn't have to be for profit and making money. It can be about connection, advocacy and justice. It can be about happiness and joy, telling stories."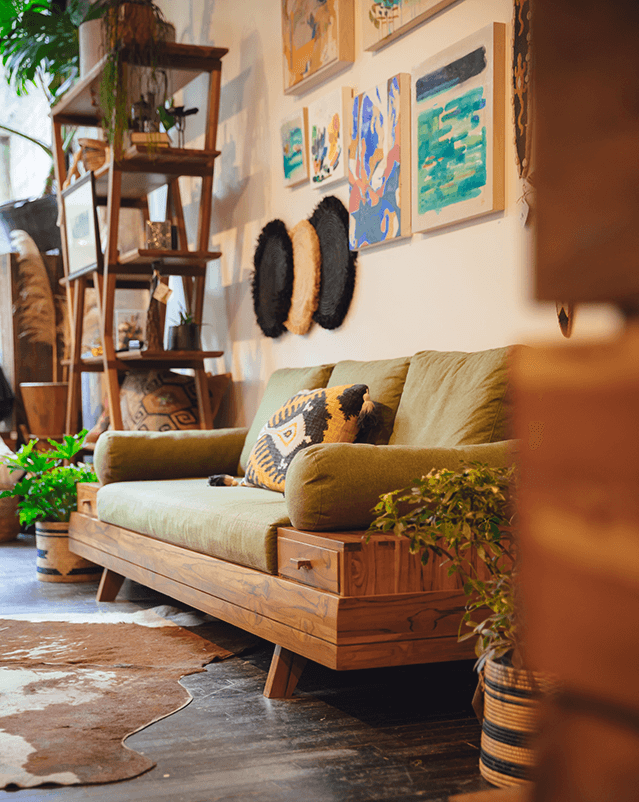 And she's got big plans for SustainAble. Pointing out that there are few, if any, Black-owned national retail chains, she wants to be among the first. She also wants to collaborate with hotels to bring meaningful products and pieces into their spaces. And, above all, she wants to continue to empower artisans around the world to be able to sustain themselves with their handiwork.
For More Information:

SustainAble Home Goods and Accessories
https://yoursustainablehome.com/
Tag:
Atlanta Market
Blog Post