10 Things to Know about JuniperMarket
Ahhhhh...Market time. There's always something new to discover and delight you at Market, so we understand why it's one of your favorite times of year. But this year the discovery is big. REALLY BIG! This year, say hello to JuniperMarket and transform your wholesale buying voyage into a cruise ship that sails every night, year-round. Now you can go right from the show floor at Atlanta Market to your own home, with your feet up and sweatpants on as you reorder, restock and seek out new products on our new digital marketplace.
So just what is JuniperMarket? And what sets it apart from other online marketplaces?
1 JuniperMarket is International Market Center's wholesale ecommerce marketplace where buyers can shop from established and emerging brands, search and discover new products, and place and manage orders online, year-round.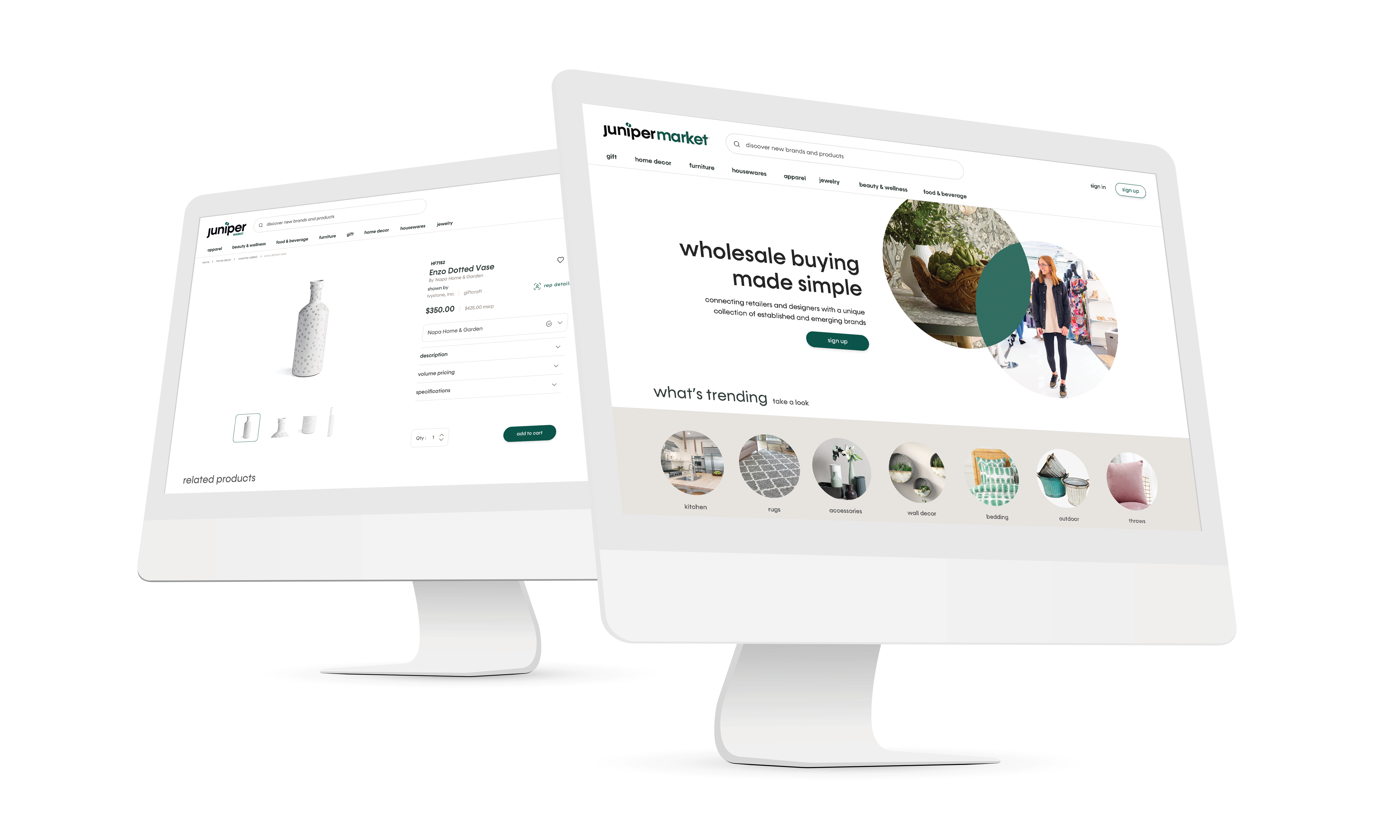 2

What can you do on JuniperMarket?
Search and shop by brand, category or product

Open new or shop existing accounts

Take advantage of Net 60 terms by using JuniperCredit

Access discounted shipping rates

Establish a direct connection to your sales rep

Order from agencies or manufacturers

Manage ongoing orders

Curate shareable boards with your favorite products

Enjoy easy access to product details and photography

Log in using your physical Market credentials (if you attend Markets)
3 With JuniperMarket, you have direct access to your rep at each brand, so you enjoy 1:1 customer service along with the ease and efficiency of shopping online.
4 JuniperMarket will have a combination of product SKUs from major manufacturers to small, independent makers and up-and-coming artisans. You can experience a variety of products, price points and categories.
5 Continue to shop 24/7 and year-round from brands you love to visit at Atlanta Market, Las Vegas Market, High Point Market and Atlanta Apparel.
6 Stay on top of the latest news about upcoming Markets, shows and events. 7
Thousands of brands and millions of SKUs will be available to shop on JuniperMarket, including many of the great brands you know from IMC's markets and tradeshows. JuniperMarket will feature an expansive and growing array of manufacturers across all categories of gift, home décor and lifestyle.
8 Through JuniperCredit, qualified retailers can receive a line of credit that allows payments within 60 days of product purchases.
9 Each participating brand will set their own minimum order requirements and, once you start shopping, you'll see minimum requirements noted on the product pages. Have questions? You can have direct contact to a rep from each brand who will be happy to discuss your order in detail.
10 JuniperMarket is a wholesale marketplace, created for verified retail buyers or interior designers, and each buyer is required to provide credentials to set up an account. However, buyers who have attended an IMC Market in the past can expedite account setup.
Tag:
Atlanta Market
Blog Post