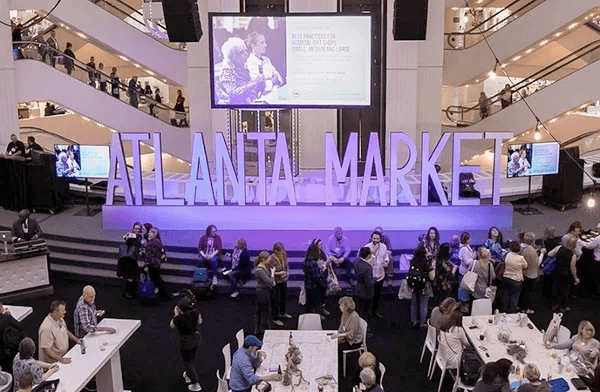 Webinar Recap: Navigating Remote Selling While Markets are on Pause
Thank you to all who joined us for our webinar, focused on Navigating Remote Selling While Markets are on Pause.
In 45-minutes, we provided an update on Summer Markets and covered actionable recommendations for fostering retailer relationships, increasing productivity and collaboration between buyers and sellers, and preparing for recovery.
Watch the recording and download the slides to successfully navigate these uncertain times. Since we were not able to cover all the questions during our webinar, we address all of your questions below.
Presentation Slides
View here


Question & Answer
1. Does IMC plan on granting any rent relief to vendors and rep agencies?
a. We have relief available. Please contact your leasing agent directly for the details of the program.
2. Do you anticipate a change in summer show dates at this time?
a. IMC is committed to bringing buyers and sellers together and creating exceptional Markets of enduring value. We are conducting broad retailer research next week to identify travel sensitivity and optimal timing. We will share updates as soon as we can regarding summer shows.
3. As a rep group tenant in AmericasMart (Bldg2) for over 25 years, we currently have a very active wholesale buyer portal through our website. We wrote over 1 million in sales last year through our portal. How can our virtual showroom option at Americasmart.com to maximize exposure to new customers? This will be helpful if the shows do not happen.
a. IMC is making significant investments in new websites for exhibitors in Atlanta. These new websites will launch before the summer shows and feature links to your proprietary websites and buyer portals, buyer lead generation, rich digital showrooms with virtual tours, product-based search and discovery and other features.
4. Is there a cost for buyers to join ShopZio?
a. ShopZio is free for buyers. You can register through www.shopzio.com and create one account to explore our exhibitors, request access, search, shop, create/share wishlists, create/share projects, collaborate with your rep and transact.
5. Can you explain the fee structure for ShopZio in 2021?
a. The current free ShopZio offer for IMC exhibitors does not require any commitment beyond 2020. We have not finalized future fee structures and we are conducting research to determine the best approach. That said, for IMC exhibitors, we will provide a significant discount and we are exploring options such as a single-digit transaction fee. For non-IMC exhibitors, the 2021 ShopZio fee structure will include more substantial fees.
6. How can we register for the IMC market site you are developing?
a. To start the ShopZio onboarding process, please complete this form. You can also email any questions to concierge@imcdi.com.
b. You can start the Market website product data process through your exhibitor portal. You can also email portalusers@support.andmore.com if you have questions or would like to speak to the IMC Digital team.
7. As a rep group, how does the Shopzio apply to us? Can it link to our websites so that we have our virtual showroom available thru you?
a. ShopZio was designed to be rep friendly. You can have a brand presence and associate your vendors under your brand. Please complete this form to speak with our product specialists about the features available for a Sales Rep Agency.
b. Yes, when we launch new functionality in June, buyers who are exploring your digital showroom from an IMC Market website will have the ability link directly to ShopZio to see product/pricing and to transact. In the future, we will also link from ShopZio to digital showrooms on the IMC Market websites.
8. How does IMC get buyers from the IMC site to ShopZio?
a. Brands on the Las Vegas Market website will have a link to their ShopZio brand page.
b. Buyers can filter Las Vegas Market website searches by brands available on ShopZio.
c. These features will be available on all IMC websites later this year.
9. This webinar was geared towards gift showrooms. Will there be a separate webinar for apparel showrooms?
a. While some of the presentation examples were designed for the GHTA audience, the recommendations apply to all tenants across furniture, home décor, gift, and apparel industries.
10. Will the Pharos wholesale platform be Shopzio or the one they were selling when a part of Whereoware?
a. No, Pharos Web is a single-tenant B2B e-commerce platform for brands and sales rep agencies. ShopZio is a digital marketplace that allows buyers to explore many brands, request access to brands, collaborate with reps and shop across multiple brands. We have clients utilizing Pharos Web or other e-commerce website solutions and also ShopZio to open new accounts and engage with buyers in the channel that is most convenient for them.
11. When can we start to upload products to ShopZio, and is there a template of what data fields you need for that upload?
a. Yes, we have a template we can share and there are tools that will help you quickly and easily match your categories and attributes to available categories and attributes on ShopZio. You can start the ShopZio onboarding process by completing our registration form. Upon completion, one of our onboarding specialists will be in touch to begin the process and answer your data questions.
12. What are the hotels going to do with all of our reservations that they currently have for market?
a. We are currently working with hotels to transfer reservations if and as markets shift. It is imperative that you book within the IMC hotel blocks.
13. What cleaning/disinfecting is being done in IMC facilities, as well as ongoing cleaning during an event?
a. IMC is engaging with industrial hygiene companies for enhanced cleaning of high traffic and high touch areas for before, during, and after Markets. We will also be working closely with licensed food and beverage providers to ensure the highest standard of hygiene protocol is maintained. In addition, IMC will procure and maintain an inventory of Personal Protection Equipment (PPE) for distribution at all markets.
14. Will IMC_di offer a way to search by category on ShopZio?
a. Currently, ShopZio is searchable within a brand. This current functionality was designed to give brands the ability to individually validate and approve wholesale buyers before exposing their lines, products, and customer-specific pricing. In a future release, later this year, ShopZio will be searchable across brands.
15. Will you only promote our company if we are using your selling platform?
a. Our intention is for ShopZio and all our offerings to be inclusive to the industry. However, the free ShopZio offer is only available to IMC customers.
16. Can vendors who are in a Rep showroom be part of ShopZio as their own brand -- or do they need to be on Shopzio through the rep showroom?
a. If the Rep showroom joins ShopZio, then the brand will be featured under that showroom.
b. If your Rep showroom declines to participate in ShopZio, you can be featured separately.
17. Does ShopZio offer a digital catalog option? We currently only have a site and a physical catalog. If not, is there a platform you recommend?
a. Both RepZio and Pharos offer affordable digital catalog solutions. Our sales specialists would be happy to present the options available. Please contact our team at sales@imcdi.com.
18. When you refer to financial relief for tenants, is it deferment or actual financial relief?
a. The financial relief is interest-free long-term deferment.
19. Any further suggestions for a multi-rep organization that does not have their own website.
a. Pharos and Repzio offer e-commerce websites designed to drive business between buyers and sellers including for multi-rep agencies. Please contact sales@imcdi.com to speak with a sales representative.
20. We don't have SKU's for our products, and we introduce one item in different variety of colors, should we introduce each color by itself, or how we are going to introduce this on ShopZio?
a. ShopZio supports multi-variant products. We recommend completing our registration form to talk with an onboarding specialist about your product data.
21. Are temporary booth vendors able to take advantage of the ShopZio promotion as well (i.e. no cost until 2021)?
a. Yes, if you have a temporary space for the upcoming Summer Markets, you are eligible for the free offer.
22. Will we be able to utilize any of this when we use Brandwise?
a. Yes, if you are a customer of IMC, you are eligible for the free ShopZio offer regardless of any other e-commerce software you are using.
23. How does the ShopZio site differ from other industry site like Faire.com?
a. ShopZio is an inclusive industry platform. Differing from other platforms in the industry, ShopZio is rep centric and provides Sales Rep Agencies with a brand presence. In addition, ShopZio will be integrated with IMC Market discovery sites for Atlanta and Las Vegas for a seamless buyer experience. There are many other features we would be happy to share that demonstrate that ShopZio is a solution built WITH and FOR the industry.
24. Will you combine the August apparel and July gift shows?
a. It is under consideration pending feedback from the retailer survey.
25. If Americasmart is canceled, will you have a multi-day virtual tradeshow for vendors and buyers?
a. Yes. We are exploring every opportunity to connect buyers and sellers.
26. Are temporary international exhibitors in Handmade able to participate as well in ShopZio?
a. All customers who have a temporary space for the upcoming Summer Markets are eligible for the free offer.
27. How will customers get from the Atlanta and Las Vegas Market websites to ShopZio where they can order the item they just saw?
a. The Las Vegas Market website will link directly to ShopZio for participating brands to transact. This feature will also be available on the new e Atlanta Market websites that will launch in June before the Summer Market cycle.
b. IMC has the largest, highest quality buyer database in the industry, and we will continue to engage those buyers to discover on our Market websites and transact on ShopZio. In addition, there are over 35,000 buyers registered on ShopZio today and will be launching a marketing campaign to drive additional registrations.
28. We've already invested time, and financial resources in Brandwise REACH software that links to our website. Will this new program bridge to that product? We are a small company and don't have the resources to start from scratch again.
a. Our Customer Success team will do whatever we can to make it easy for you to onboard to ShopZio from your other tools and platforms. ShopZio is a standalone product that does not require investment in Pharos or RepZio. If you are currently an IMC tenant, there is no fee for onboarding or participating in ShopZio through the end of 2020. There is no commitment required beyond 2020 and you may choose to stop selling on ShopZio at the end of the year and before any fees apply. Separately, all Market sites can link directly to your website regardless of platform.
29. Is there a chance that the June HPFM will be postponed?
a. High Point Market Authority elected to cancel the June Market as of Thursday, April 16th. IMC is developing digital service alternatives that will be available soon.
30. If needed and required, will IMC have masks to hand out to all attendees?
a. IMC will procure and maintain an inventory of Personal Protection Equipment (PPE) for distribution at all markets.
31. What are you going to do about elevators? We are on the 18th floor and the thought of them makes me very nervous for a very long time.
a. We will urge attendees to use escalators whenever possible, where social distancing will be enforced. Elevator capacity will be managed to maintain safety standards.
32. What are the popular sales apps that are being used?
a. Both IMC_di Sales Applications (Pharos & RepZio) are integrated with the ShopZio platform. Pharos and RepZio are industry leading tools that are used by close to 1,000 of brands in Apparel, Gift, Home Décor and Home Furnishings industries. We offer flexible packages and tools for large enterprises as well as for smaller brands. We would be happy to introduce you to these best-in-class solutions if you email sales@imcdi.com.


Let's Talk Through Your Challenges
Staying mindful during a crisis is critical. We're here to help address your concerns and challenges.
Do you have questions, want to brainstorm, or need further guidance applying these recommendations across all your digital channels? Get in touch to connect with one of our digital experts.
Tag:
Atlanta Market
Blog Post